Back to 2021 COAA Connect Speaker/Presenters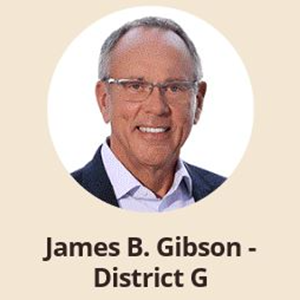 Jim Gibson
Clark County Commissioners Office
Speaker Bio
A former three-term Mayor of Henderson and a practicing attorney in business and commercial law for more than 35 years, Jim Gibson brings his extensive experience in local government and in Nevada's tourism, hospitality, entertainment and business industries to his position as County Commission Vice Chairman.

While mayor of Henderson (1997 - 2009), Gibson guided the city through a period of unprecedented growth as it became the second-largest city in Nevada. Among many other notable accomplishments, he was instrumental in updating the city's comprehensive plan, securing Congressional approval for the establishment of a Limited Transition Area comprised of more than 500 acres of west Henderson industrial property, creating Henderson's nationally award-winning Development Services Center, establishing the Apple Partnership, a city-wide K-3rd grade literacy program which has been adopted by the Clark County School District, and leading the effort to establish Nevada State College.

A native Nevadan, born in Las Vegas and a near lifetime resident of Henderson, Gibson has served on numerous boards and commissions, including the Las Vegas Convention and Visitors Authority Board of Directors, the Nevada Development Authority Board of Directors, the Las Vegas Events Board of Directors, the Regional Transportation Commission and as Co-Chair of the Civilian Military Council for Nellis Air Force Base, while mayor. In the private sector, among other boards, Gibson served on the St. Rose Dominican Hospital Board of Directors including a term as its chair.

Today, Mr. Gibson is President of Western Elite, a full-service waste services provider in Clark County. He previously served as General Counsel of American Pacific Corporation (APFC) operating subsidiaries, President of the Las Vegas Monorail Company, President and Chief Executive Officer of Vegas.com from 2010 to 2013, and Vice Chair of Vegas.com through 2015.

As the leader of the Las Vegas Monorail Company, Gibson oversaw the undercarriage redesign that enabled the re-opening of monorail service that allowed the company to begin uninterrupted service along the famous Las Vegas Strip. As Vegas.com's President and CEO, Gibson led a team of nearly 400 employees that support two e-commerce sites, box office and show ticket operations, tour operations, concierge desks, retail operations, mobile applications, syndicated television, newspaper editorial supplements and an integration and technology division for the hospitality industry worldwide called Cyllenius. At Western Elite, he currently leads a team of 250 talented, well-trained employees that provide customer-service driven construction and demolition, recycling, waste hauling and landfill services at a state-of-the-art landfill licensed by the State of Nevada.