Georgia Chapter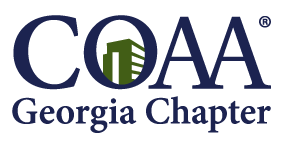 LEADERSHIP TEAM
PRESIDENT - Jere Smith, Atlanta Public Schools
VICE PRESIDENT - Melanie Ford, University of Georgia
TREASURER - open
SECRETARY - open
PAST PRESIDENT - Marvin Woodward, GSFIC
---
Seeking news, networking opportunities, and workshops with the latest industry issues? Contact the COAA-Georgia Chapter with your fresh ideas, to update your contact information, to join the leadership committee, or just stay connected for all the latest chapter happenings.
We appreciate your support and participation!
---
UPCOMING EVENTS

Virtual Summer Workshop
Date: Friday, 06/11/2021
Time: 9:00AM - 12:00PM ET
Location: Zoom
Join COAA-GA as we explore some pertinent topics with presentations by industry leaders related to projects, processes, and overall success.
Interested in becoming a sponsor? You can purchase annual and event sponsorships here.