Michigan Chapter
Welcome Back To COAA-MI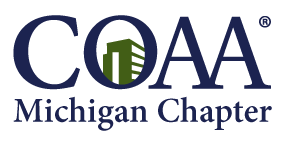 ---
Seeking news, networking opportunities, and workshops with the latest industry issues? Contact the COAA-Michigan Chapter with your fresh ideas, update your contact information, join the leadership committee, or just stay connected for all the latest chapter happenings.
We appreciate your support and participation!
CALL FOR VOLUNTEERS
COAA-MI has many opportunities to get involved. From event planning to communications roles; leadership to sponsorship and everything in between, just bring your interest and enthusiasm, and let's get going!
CALL FOR PRESENTATIONS
COAA-MI is developing a bi-monthly series of educational events accompanied by networking. If you have an idea for a presentation or are interested in presenting
---