Florida Chapter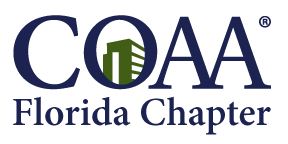 LEADERSHIP TEAM
PRESIDENT - Stuart Cullen, University of Florida
PROGRAMS - TBD and Tara Krovich, Whiting-Turner Contracting Co.
SPONSORSHIP - Bill Martin, UCF and TBD

RECRUITMENT - Bill Martin, UCF; Dan Durrance, Matern; Sid Shah, Onindus

COMMUNICATIONS - Chris Harris, UCF and Sid Shah, Onindus

COAA Cares - Jay Malcolm, UCF and Mimi Flatley, Turner Construction
---
Exciting Happenings in 2023!
Click on the image below to download an event flyer!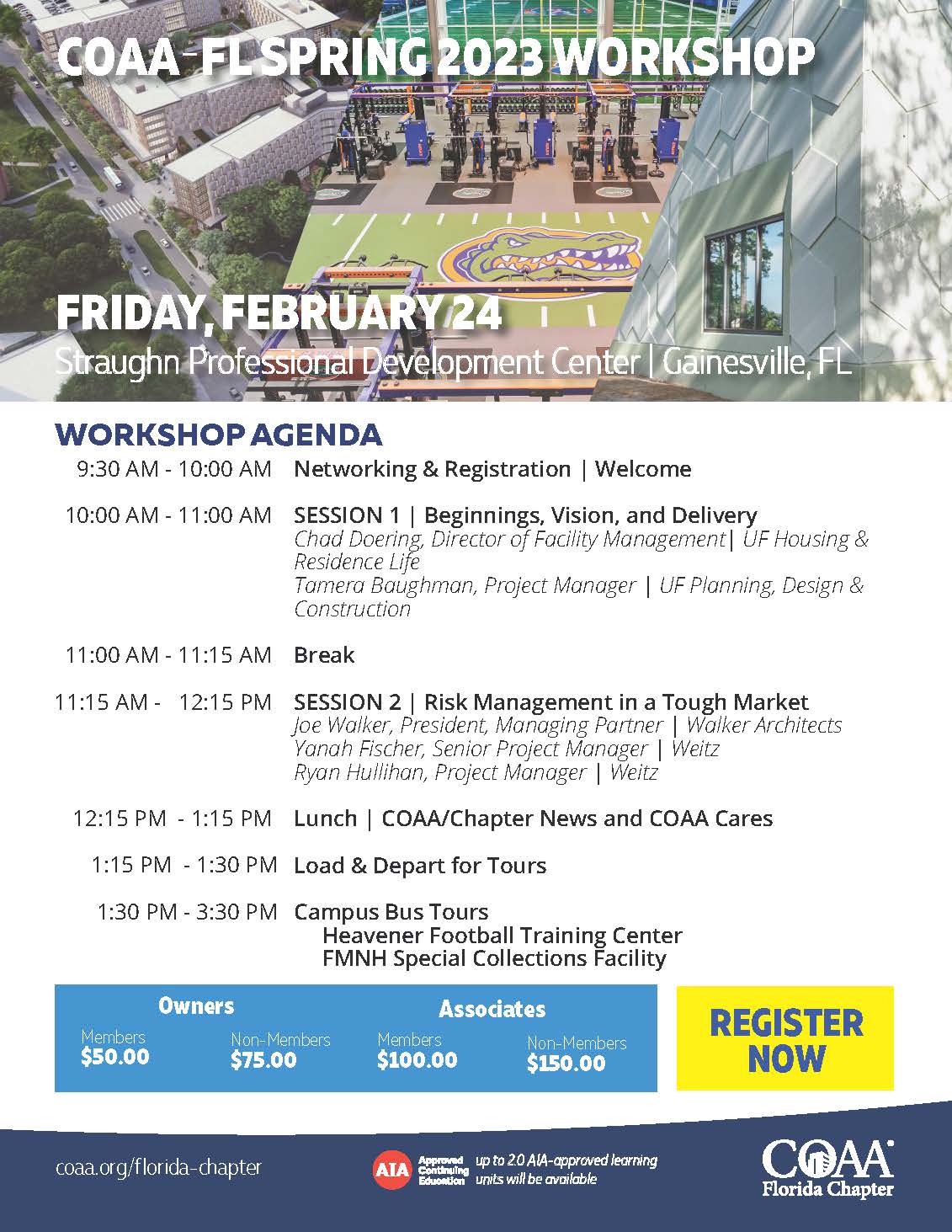 Spring Workshop | February 24 | Gainesville

The COAA-FL chapter returns to Gainesville for a workshop focused on one of the largest projects ever executed at the University of Florida ... a 1,400-bed Honors Village delivered through a unique version of Design-Build. Attendees will also get to tour two recently-completed unique facilities – the Heavener Football Training Center and the Florida Museum of Natural History Special Collections Facility.
Night-Before Gathering! Join us at 6:30 PM on Thursday, Feb. 23, at First Magnitude Brewing Co. BYO$ and no registration required.
---
Summer Socials | dates TBD | various locations

We're fanning out to offer the chance to network with colleagues in several FL cities, some of which may include a hardhat tour. Stay tuned for dates, locations, and other details.
---
COAA Connect Fall 2023 | November 13-15 | Orlando

Finally! COAA's national conference returns to Florida. Registration and a Call For Presentations will open later this year, but sponsors and exhibitors can get a head start by contacting Jill McKenzie.
---
Sponsorship
COAA's primary mission is education – helping Owners be better Owners – so your support leads ultimately to a more informed client base that believes in The COAA Way of conducting business.
Sponsors of the Florida chapter can support year-round with a single investment as a "Flagship" sponsor or sponsor a single event. Packages include a variety of benefits on both the local and national level, including a tie-in to COAA Connect Fall 2023, which takes place in Orlando.
Click on the image below to download the flyer/form for 2023 Flagship or event sponsorship. Sponsorships can also be purchased online through the green button further below.
---
THANK YOU TO OUR 2023 FLAGSHIP SPONSORS!