Illinois Chapter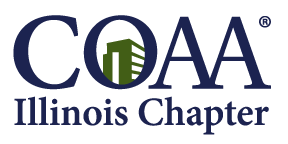 LEADERSHIP TEAM
President - Chris Rogan, University of Illinois
Vice-President - Chuck Hardy, GSA
Founding Partner - Greg Andre, K&L Gates
Programming - Julia DeRosi, GSA |Rick Stuckey, Cannon Design | Mike Pederson, Mortenson
Cy Rangel, Purdue University | Shannon Tucker, University of Illinois
Ben Bessert, Whiting-Turner | Marc Rogers, CCS
Marketing & Membership - John Holbert, IMEG Corp
Social Media - Michael Hanley, LJC
Sponsorship - open
---
Need Training Between Conferences and Local Chapter Events?

In addition to COAA's highly valuable local chapter events and in-person national conferences, COAA also offers multiple opportunities for distance learning. Visit the COAA Owner Training Institute page to learn about training courses, live and on-demand webinars, and Lorman Education Offerings.
---
Exciting Happenings in 2023!

REGISTRATION OPEN!
We're delighted to announce our partnership with Chicago Build, the leading construction & design show in the Midwest.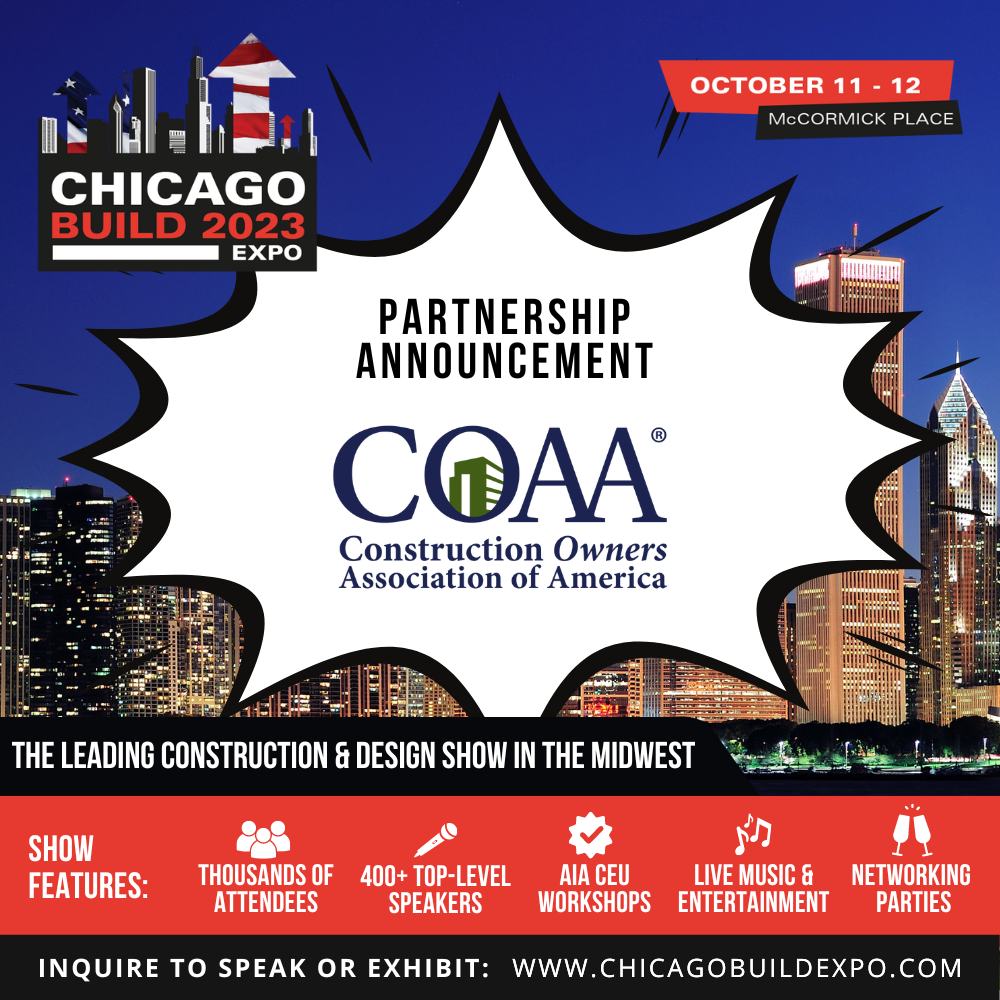 Chicago Build will be taking over McCormick Place on October 11-12 and is currently allocating prime booths at no extra cost.
Exhibit at the leading construction & design show to:
Connect with contractors, architects, developers, realtors, government agencies, and construction professionals from the leading AEC companies
Network with C-suite decision-makers through exclusive networking events
Showcase your latest products to 22,000+ attendees
Meet 350+ high-profile speakers
Position yourself as an industry leader
Attending companies include AECOM, JLL, Gilbane Building Company, Turner Construction Company, HNTB, plus more!
Prime exhibition space is selling fast so get in touch at CHICAGO BUILD to secure your booth or for further information.
See you there!
Connect With Us!
COAA Panel Discussion: Crucibles of Leadership - How are Owners Leading in 2023
In the rapidly evolving construction industry, understanding the leadership dynamics of facility owners is crucial for effective collaboration and project success. This session offers a unique platform for owners to candidly discuss their roles, challenges, and aspirations. This interactive panel discussion aims to provide attendees with insights into the contemporary owner's perspective, fostering a deeper understanding of the intricacies of their interactions with construction managers and design partners.
The session adopts an "Owners Town Hall" format, encouraging direct engagement between the panelists and the audience. This unscripted approach ensures that participants can pose questions and gain real-world insights into the evolving role of owners in the architectural ecosystem. By openly addressing questions about the challenges they encounter, the panelists will shed light on the ways they navigate complexities and align their visions with project teams.
Learning Objectives:
Gain a comprehensive understanding of how owner roles and responsibilities in the construction industry are evolving. By sharing their experiences and challenges, the panelists will help illuminate attendees on owners' priorities and pain points.
Learn best practices for cultivating trusted partnerships between owners and their design and construction colleagues. What are effective communication strategies that can improve project execution?
Gain insight into owners' priorities for 2024 both for portfolio expansions as well as hiring and talent retention.
Hear firsthand the biggest challenges facing large facility owners as they head into Q4. How are they balancing growth with the rapidly evolving clean energy economy? How much has the supply chain management changed the project delivery approach?
Location: Stage 3
Date/Time: Wednesday, October 11 – 1:00 PM - 1:50 PM
Panelists:
Arthur Del Muro, University of Chicago | Cy Rangel, Purdue University | Ray Giderof, City of Chicago | Kari Frontera, FAA
Moderator: Rick Stuckey, CannonDesign
___
COAA Network Party
Location: The Hub
Date/Time: Wednesday, October 11 – 2:00 PM - 3:00 PM