Illinois Chapter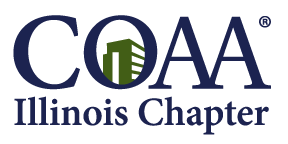 LEADERSHIP TEAM
PRESIDENT - Chris Rogan, University of Illinois
VICE PRESIDENT -  open
TREASURER - open
SECRETARY - open
---
Seeking news, networking opportunities, and workshops with the latest industry issues? Contact the COAA-Illinois Chapter with your fresh ideas, to update your contact information, join the leadership committee, or just stay connected for all the latest chapter happenings.
We appreciate your support and participation!
---
UPCOMING EVENTS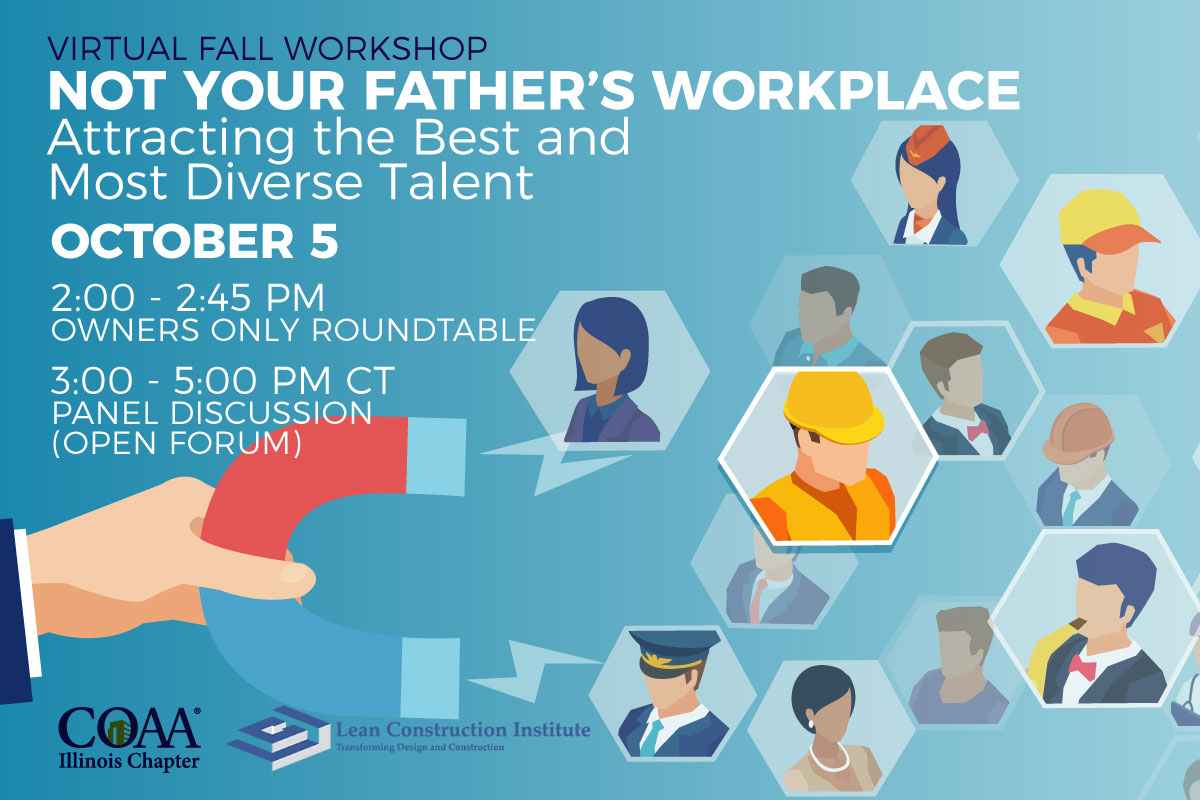 ---
As the economy emerges from the pandemic, there is a need across market sectors to attract and retain new talent. It is also more and more likely that these new recruits will bring more diversity to the workplace. COAA and LCI's fall roundtable will focus on strategies and solutions to attract and retain diverse candidates, as well as the impact these new employees will have on our industries. As the economy emerges from the pandemic, there is a need across market sectors to attract and retain new talent. It is also more and more likely that these new recruits will bring more diversity to the workplace. 
Learning Objectives: 
Discuss the role of diversity in solving the skilled labor shortage in the construction industry 
Specific strategies to increase diversity and inclusion such as mentorship and partnership opportunities, workforce training, and community engagement
Impact of diversity on project delivery outcomes such as increased productivity and fostering innovation
Community role in owner and project diversity
Specific ways to increase diversity and inclusion in lean project delivery – education and training for labor and management workforce 
Speakers:
Dale J. Morrison, Esq. serves as Assistant Director in the Office of Procurement Diversity at the University of Illinois and has a wealth of knowledge and experience with supplier diversity programs, with a particular focus on construction and construction-related projects. As part of the University of Illinois Administration, which governs three major campuses in Urbana-Champaign, Chicago, and Springfield with over $1 billion in annual procurable spend, Mr. Morrison oversees all aspects of the University's Supplier Diversity Program to ensure that businesses owned by minorities, women, persons with disabilities and veterans receive procurement opportunities. Mr. Morrison is a graduate of the University of Illinois at Urbana-Champaign with a Bachelor of Science degree in Finance and has earned the degree of Juris Doctor from the Chicago-Kent College of Law.
Maggie Beckley is the Healthcare Development Executive for Mortenson where she is responsible for strategic vision, long-term growth, development of client relationships, and creating and executing innovative development opportunities for the healthcare vertical. Maggie comes to Mortenson from Advocate Aurora Health, the 10th largest not-for-profit, the integrated health system in the United States, where she served as Director of Real Estate. In this role, she developed and delivered real estate strategies, transaction services, and qualitative analysis for a portfolio of more than 500 Advocate Aurora locations, over 1,000 leases, and 30 million square feet. Maggie received her bachelor's degree from the Xavier University of Louisiana in Finance and Accounting and her MBA with a focus on Real Estate and Commercial Development from Roosevelt University.
David Stone, Director of Construction at Northwestern University is a licensed architect with over 30 years of experience in collaborative problem solving, design, project management, construction administration, and facilities operations.
John Zachara has spoken nationally on the topics of Lean and IPD for the last 5 years and is the Leader of the Chicago Community of Practice. As Vice President at IFS, he is responsible for the program and capital budget management of a multiple-site acute care healthcare organization. With more than 20 years of project management experience, his breadth of knowledge includes budget phase through job completion in a variety of projects commercial, retail, hospital, clinical, research, educational, and religious facilities. John was a member of the 1st Integrated Form of Agreement (IFOA) project in Healthcare in Chicago setting the standard for how future MOBs should be built.
The LCI/COAA Owner's Forum on October 5, 2-3 pm, is meant to be an open discussion of topics among owners.  The facilitator, John Zachara, will use a "Lean Coffee" format for this meeting.  The concept is simple, bring any questions you may have regarding any topics you wish to discuss.  The topics would be assumed to revolve around Lean ideas but can branch out into any challenges we are facing as Owner Organizations.  Each question will be posted on a virtual whiteboard, introduced quickly, voted on, and then discussed for 5-7 minutes.  This allows for a large amount of discussion without any preparation from the attendees.  We operate in a safe environment of sharing with a skilled facilitator to keep us on track.  We hope you pass this option along to any Owner Organizations you partner with in the hopes they would attend. 
Please indicate your interest when you register.
---
Need Training Between Conferences and Local Chapter Events?
In addition to COAA's highly valuable local chapter events and in-person national conferences, COAA also offers multiple opportunities for distance learning. Visit the COAA Owner Training Institute page to learn about training courses, live and on-demand webinars, and Lorman Education Offerings.