Texas Chapter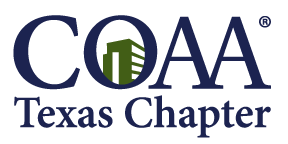 2023 LEADERSHIP TEAM
PRESIDENT - Ginger Smith, UTHealth Houston
VICE PRESIDENT - Eduardo Reyna, UTMB Health
PAST PRESIDENT - Leonard LaComb, UTMB Health
EMERGING PROFESSIONAL VP - Kiel Hawkins, UTHealth Houston | Charlene Heath, MD Anderson
PROGRAMS - Cody Christian, MD Anderson | Cynthia Harvey-Brown, Energy Architects
SPONSORSHIP - Bill Wade, Southern Methodist University | Jessica Bonin, Holder Construction
HOSPITALITY - Kelly Fox, DPR Construction
COMMUNICATIONS - Angie O'Flaherty, Walter P. Moore | Janelle Johnson, Skanska
COAA CARES - Rene Kacal, Texas Children's Hospital | Yvonne Nagy, HDR Inc
Seeking news, networking opportunities, and workshops with the latest industry issues? Contact the COAA-Texas Chapter with your fresh ideas, update your contact information, join the leadership committee, or just stay connected for all the latest chapter happenings.
---
Exciting Happenings in 2023!
COAA-TX 2023 Fall Workshop!

Join the Texas chapter of the Construction Owners Association of America in San Antonio, TX, for its 2023 Fall Workshop. Stay tuned for additional details!

---

Hard Hat Tours

We're fanning out to offer the chance to network with colleagues in several TX cities. Stay tuned for dates, locations, and other details.

1550 on the Green

Located in Discovery Green in downtown Houston, "1550 on the Green" will be a 28-story, 370,000-SF class A office and 7,000-SF retail tower targeting LEED Platinum and a WELL certification when completed in 2024. The building aims to blur the lines between office and natural green spaces through innovative design concepts allowing spectacular views of Discovery Green, and bringing green space into the building. Here are a few of the unique benefits of 1550 on the Green:

Panoramic views of Discovery Green
More natural light than traditional floor plates
More efficient floorplates
Natural light in the elevator lobby and restrooms
Efficient 60'x60′ space planning module

For more information please visit the following site: https://www.1550onthegreen.com/

---




The HUB

Join us for a behind-the-scenes look at The Hub, currently under construction at the University of Houston, on September 28, 2023, at 2:30 pm Central time.

The Hub, a state-of-the-art retail food hall, is poised to revolutionize campus dining and become UH's ultimate gathering spot for students, faculty, and staff. It is an innovative mass timber project, the first of its kind on the University of Houston campus. While The Hub will not be fully finished during the tour, you'll have the opportunity to witness the progress of interior framing, MEP rough-in, curtainwall/storefront, and exterior masonry finishes.

For more information please visit the following site:
https://stories.uh.edu/2022-hub/index.html
---
Sponsorship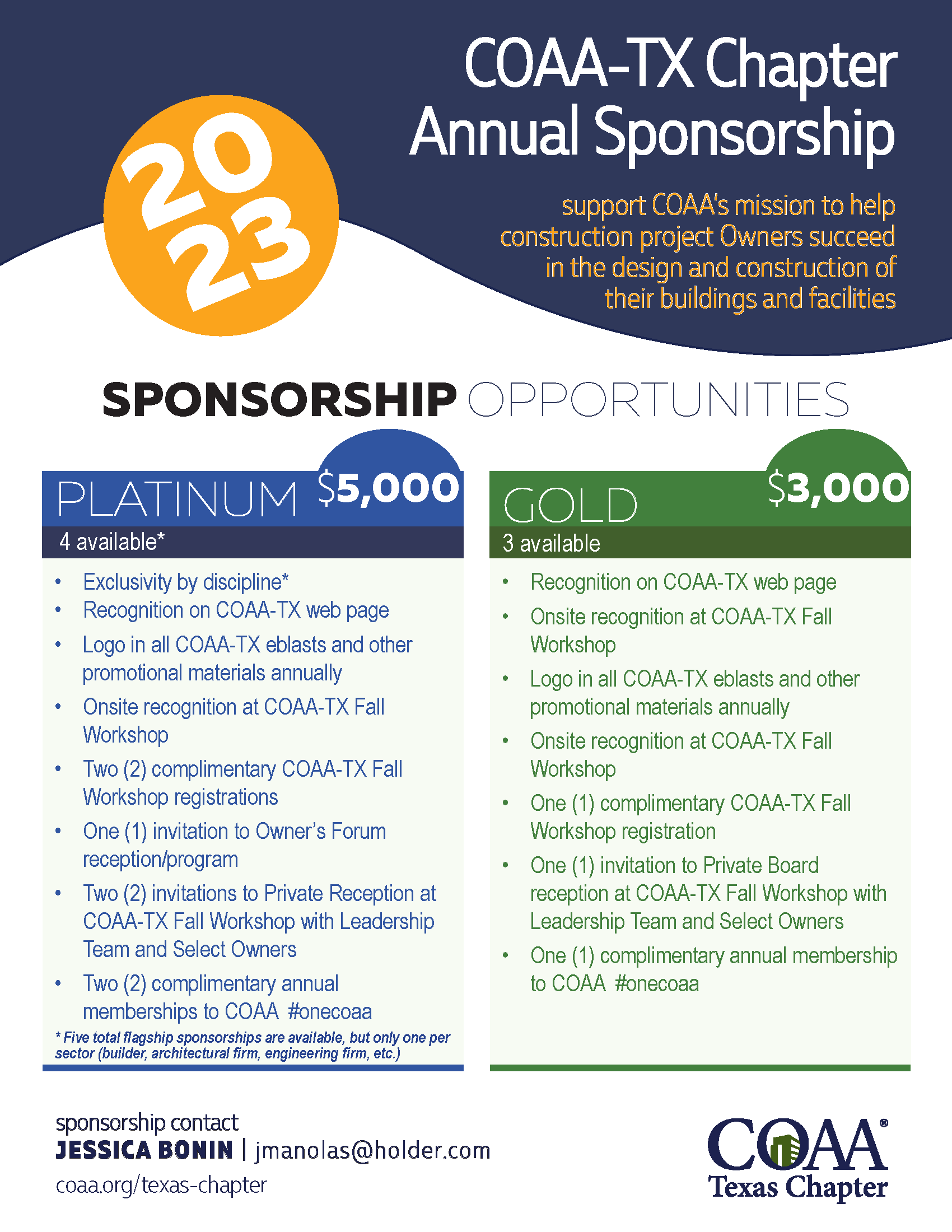 COAA's primary mission is education – helping Owners be better Owners – so
your support leads ultimately to a more informed client base that believes in The COAA Way of conducting business.
Sponsors of COAA-TX can support year-round with a single investment as an annual sponsor or sponsor a single event. Packages include a variety of benefits on both the local and national levels.

ANNUAL CHAPTER SPONSORS
PLATINUM
GOLD
Silver
Bronze