Texas Chapter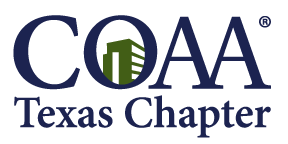 LEADERSHIP TEAM
PRESIDENT - Ginger Smith, UTHealth Houston 
VICE PRESIDENT - Joshua DeLeon, Texas Tech University
PAST PRESIDENT - Leonard LaComb, UTMB Health
EMERGING PROFESSIONAL VP - Kiel Hawkin, UTHealth Houston
PROGRAMS - Jason Sutton, MD Anderson | Cynthia Harvey-Brown, Stantec
SPONSORSHIP - Jessica Bonin, Holder Construction 
RECRUITMENT - Eduardo Reyna, UTMB Health 
COMMUNICATIONS - Nancy Lazo, MD Anderson | Amy Moen, HOK
COAA CARES - Rene Kacal, Texas Children's Hospital 
Seeking news, networking opportunities, and workshops with the latest industry issues? Contact the COAA-Texas Chapter with your fresh ideas, update your contact information, join the leadership committee, or just stay connected for all the latest chapter happenings.
---
Thank you to our 2022 Annual Sponsors
   




---
HARD HAT TOURS

Join COAA-TX and the Emerging Professionals for a sneak peek inside some of the area's most prominent projects before they open to the public. You don't have to be an EP to participate, all are welcome!
UH Hilton

Join us for this walking tour of the University of Houston's Hilton.

The project featured is a Hilton hotel located in the middle of the University of Houston campus, the number one hospitality program in the nation. The expansion includes 70 new guest rooms into an eight-story hotel and iconic concrete "Y" columns envisioned by Kirksey Architecture. Additionally, it will feature a sky bridge from the new tower to the existing tower.  Finally, the demolition and renovation of the college's Center for Student Success and Cougar Grounds coffee shop will house new offices, a conference room, a multimedia room a new coffee shop. 

***PPE IS REQUIRED TO ATTEND***

PPE: Hard hat, safety glass, close-toed shoes, safety vest
---
PAST EVENTS
Hard Hat Tour: TMC3 Collaborative Building, Houston

Designed by world-renowned Elkus Manfredi Architects, the 250,000-SF TMC3 Collaborative Building will house synergistic research initiatives for four founding institutions: MD Anderson, Texas A&M University Health Science Center, the University of Texas Health Science Center at Houston, and TMC.
---
Austin Owners Forum

On June 10th, COAA's Texas chapter came together for an in-person event held at the University of Texas Club located in Darrell K Royal stadium. The workshop was designed to cover post-pandemic workplaces, supply chain issues that have continued post-pandemic and technology trends in the design industry.
---
May Morning Mixer
COAA-TX was thrilled to have its first 2022 in-person event in Houston on May 19. We had a great mix of owners, contractors, designers, and vendors in attendance at the Morning Mixer, hosted by Powers Brown Architecture. It was a great kick-off to 2022 with fellowship and new faces.