Texas Chapter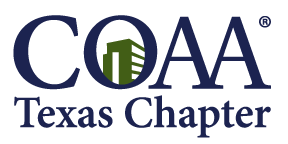 2023 LEADERSHIP TEAM
PRESIDENT - Ginger Smith, UTHealth Houston 
VICE PRESIDENT - Eduardo Reyna, UTMB Health
PAST PRESIDENT - Leonard LaComb, UTMB Health
EMERGING PROFESSIONAL VP - Kiel Hawkins, UTHealth Houston | Charlene Heath, MD Anderson
PROGRAMS - Cody Christian, MD Anderson | Cynthia Harvey-Brown, Energy Architects
SPONSORSHIP - Bill Wade, Southern Methodist University | Jessica Bonin, Holder Construction 
RECRUITMENT - Alex Fuentes, Amazon 
COMMUNICATIONS - Angie O'Flaherty, Walter P. Moore | Janelle Johnson, Skanska
COAA CARES - Rene Kacal, Texas Children's Hospital | Yvonne Nagy, HDR Inc
Seeking news, networking opportunities, and workshops with the latest industry issues? Contact the COAA-Texas Chapter with your fresh ideas, update your contact information, join the leadership committee, or just stay connected for all the latest chapter happenings.
---
Exciting Happenings in 2023!
Join the Texas chapter of the Construction Owners Association of America for an exclusive and FREE OWNERS-ONLY forum. 

We're bringing the Owners Only Forum to Ft. Worth! 

Stay tuned registration details coming soon!
---
Sponsorship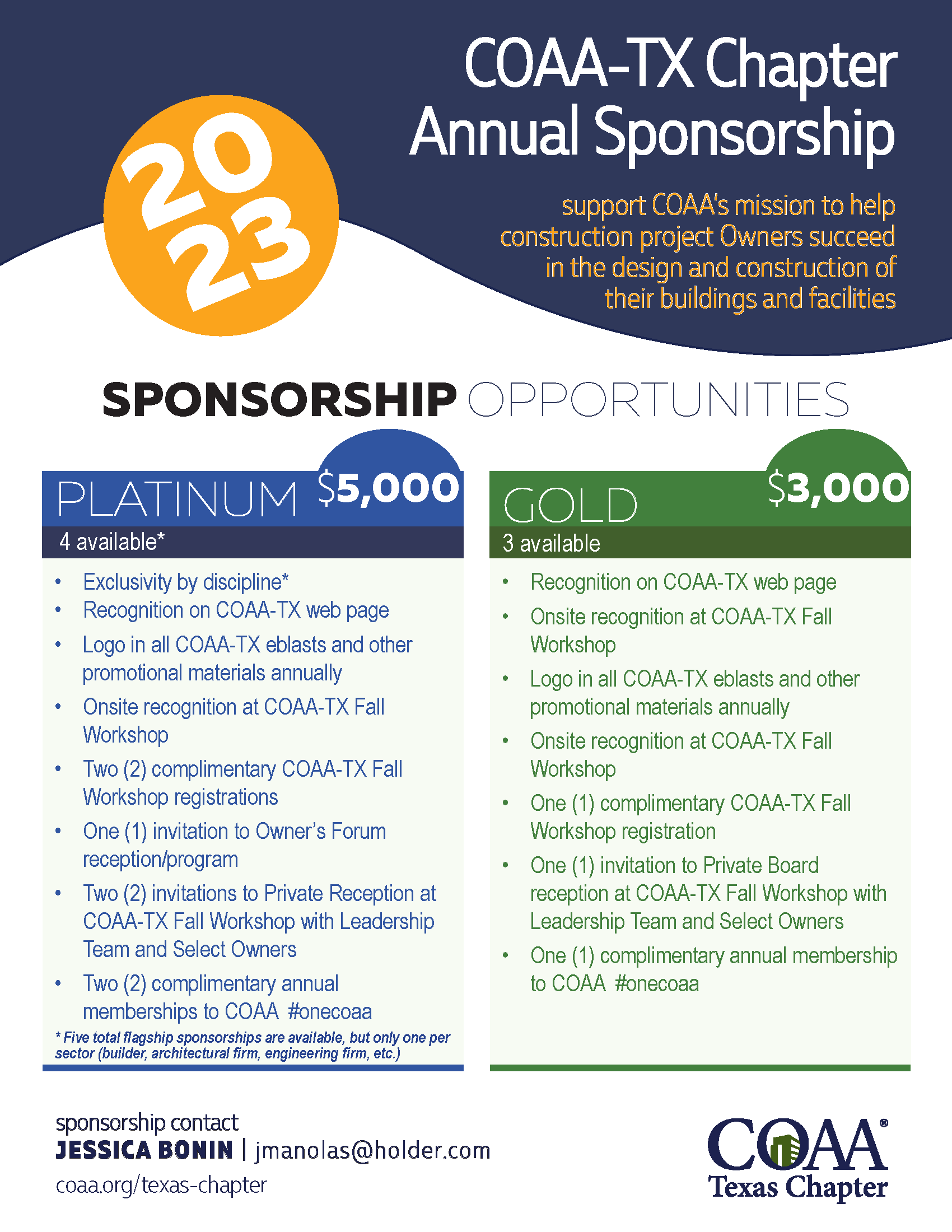 COAA's primary mission is education – helping Owners be better Owners – so
your support leads ultimately to a more informed client base that believes in The COAA Way of conducting business. 
Sponsors of COAA-TX can support year-round with a single investment as an annual sponsor or sponsor a single event. Packages include a variety of benefits on both the local and national levels.

Hard Hat Tours
We're fanning out to offer the chance to network with colleagues in several TX cities.  Stay tuned for dates, locations, and other details.