Project Leadership Awards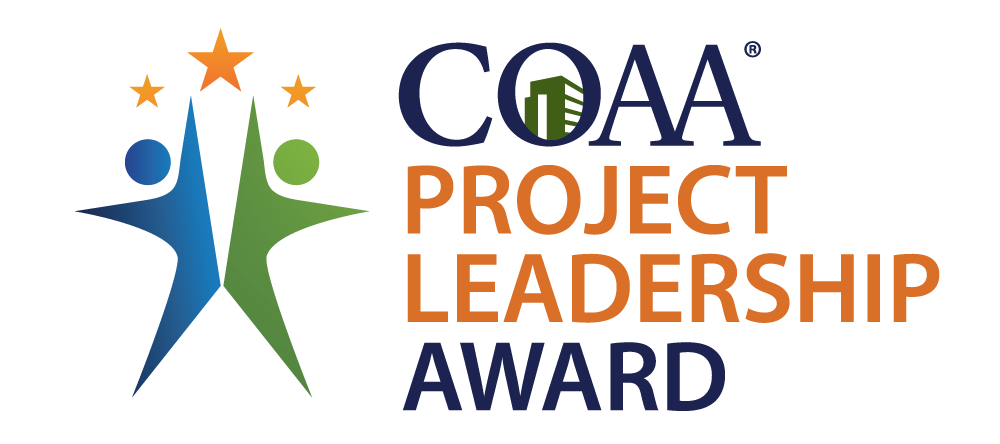 COAA Project Leadership Awards
The COAA Project Leadership Award is an annual awards program that recognizes Owners' excellence in project delivery. The program promotes leadership, professionalism, and exceptional management by Owners involved in the design and construction process.
The Award is given to the Owner who achieves excellence by demonstrating exceptional leadership and project management skills, including vision, integrity, team-building, communication, fairness, problem resolution, decision-making, and collaboration.
Eligibility
The Project Leadership Award is open to both public and private Owners. Owners do not have to be a member of COAA to submit an entry.
The program is open to all types of construction projects,... healthcare facilities, government buildings, manufacturing plants, educational/research facilities, etc. Renovation and new construction projects, large or small, are eligible for the award. Project size and cost will not be contributing or deciding factors.
Criteria
Projects nominated for the Project Leadership Award must have been substantially completed (available for occupancy) between the period of January 1, 2022, and the nomination deadline of August 30, 2023. Nominated projects will be reviewed by the Awards Committee which will select projects demonstrating excellence in the following areas:
Overall Project Management
Overall Project Success
Scheduling
Cost Management
Quality Management
Project Complexity
Conservation and Sustainability
The embodiment of The COAA Way
Winning categories include the Gold Award (highest award) and The COAA Way Award for project teams that best exemplify the principles of The COAA Way. Silver Awards and Special Awards may be awarded depending on the quality/nature of the entries. The Awards Selection Team reserves the right to select more than one winner.
Award Schedule
Winners will be notified by October 2, 2023, and the awards ceremony will occur during COAA Connect Fall 2023, November 12-15, in Orlando, FL.
For additional information, please contact Lucie Castro, COAA Headquarters at 800-994-2622.
---
Proposal Instructions
Develop narratives describing the project using the Nomination Form (sections I through VII). Proposals must contain all the information requested, be legible, and be presented in a professional manner. Incomplete forms will not be considered for the award.
Obtain (3) letters of recommendation as outlined in section VIII of the Nomination Form.
Complete and sign the Affirmation and Release at the end of the Nomination Form.
Assemble a PDF package that includes the following components:

Project narratives
Letters of Recommendation
Signed Affirmation and Release
Email the PDF package to Lucie Castro (lcastro@coaa.org) with the subject line 2023 COAA Project Leadership Awards.
Provide low-resolution and high-resolution (300 dpi or higher) project photographs, preferably in JPG format, on a CD/DVD or flash drive and mail this, along with a check payable to COAA for $350 (members) or $600 (non-members) to:
2022 COAA Project Leadership Awards Committee
5000 Austell Powder Springs Rd. Suite 206
Austell, GA 30106
Emailed PDF proposal and mailed digital photographs are due by close of business on August 30, 2022.
NOTE: Proposals and photographs will not be returned to the applicant and may be used by COAA.
---
Previous Award Winners
Congratulations to the COAA Project Leadership Award winners listed below. These Owners demonstrated leadership, professionalism, and management excellence in their project delivery.