Back to Events 2022 COAA-CA Virtual Winter Workshop
Tuesday, December 13, 2022
Event Details
Elevating Project Performance - Shaping Your Team to Improve Project Outcomes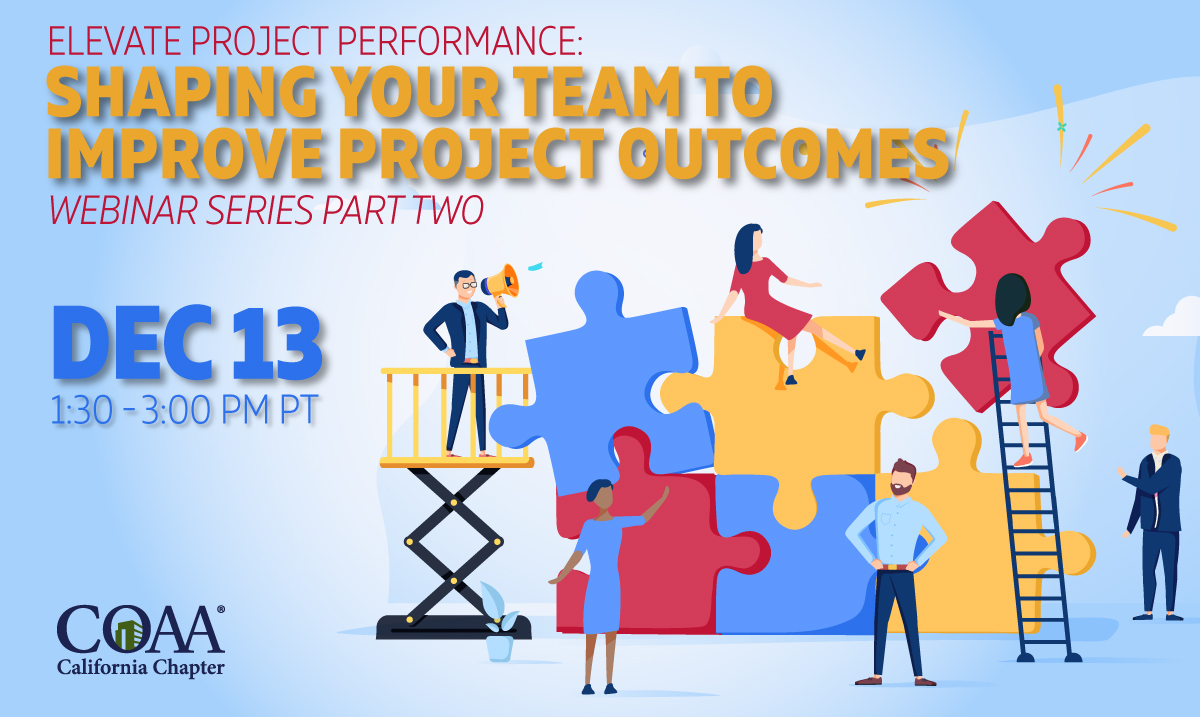 Problem: Building the right project team does not stop at recruiting.  Once an Owner has finally hired the right team members, the process of focusing on maintaining high levels of employee engagement and retention begins. 
The aftershocks of the "great resignation" still being felt underscore the idea that the most important asset an Owner has is their people.  As the make-up of the post-pandemic workforce begins to shift to a younger demographic – it is essential that Owners provide learning, training, and development opportunities to maintain the most effective project teams. 
This Webinar will underscore what strategies Owners can use to elevate their teams and begin to identify action steps including:
What Owners can do to strengthen employee engagement and alignment resulting in better project outcomes?
How to provide career development opportunities such as mentoring or career planning to motivate project teams?
During the COAA-CA Webinar series, we will discuss the current situation, hear real challenges right from the front-line owner/leader, and develop a working set of Actions on a micro and macro level to successfully recruit, develop and retain the talent that's needed to fill the looming gap in the workforce.
There are no universal solutions or easy-button answers, but the first step is to talk through it ... compare notes ... lean on the village.
Panelists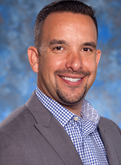 Ivan Caso
Ivan Caso is the Executive Director of Design and Construction Management Center of Excellence at Kaiser Permanente. He is responsible for coordinating Construction Management Business Line functions (Project Controls, Quality Assurance, Contracts, and Safety) to assure all capital projects throughout the Kaiser Permanente Enterprise are supported. Ivan is also responsible for managing a community of over 200+ Project Managers nation-wide ensuring that they receive the "how-to" instructions to perform their daily tasks. A recent success is the development of the PM Navigator, a digital share point platform, that supports Project Managers in obtaining quick access to resources and tools for project execution. Ivan is currently working on an initiative to rethink traditional construction sequencing with new manufacturing construction methods of assembly.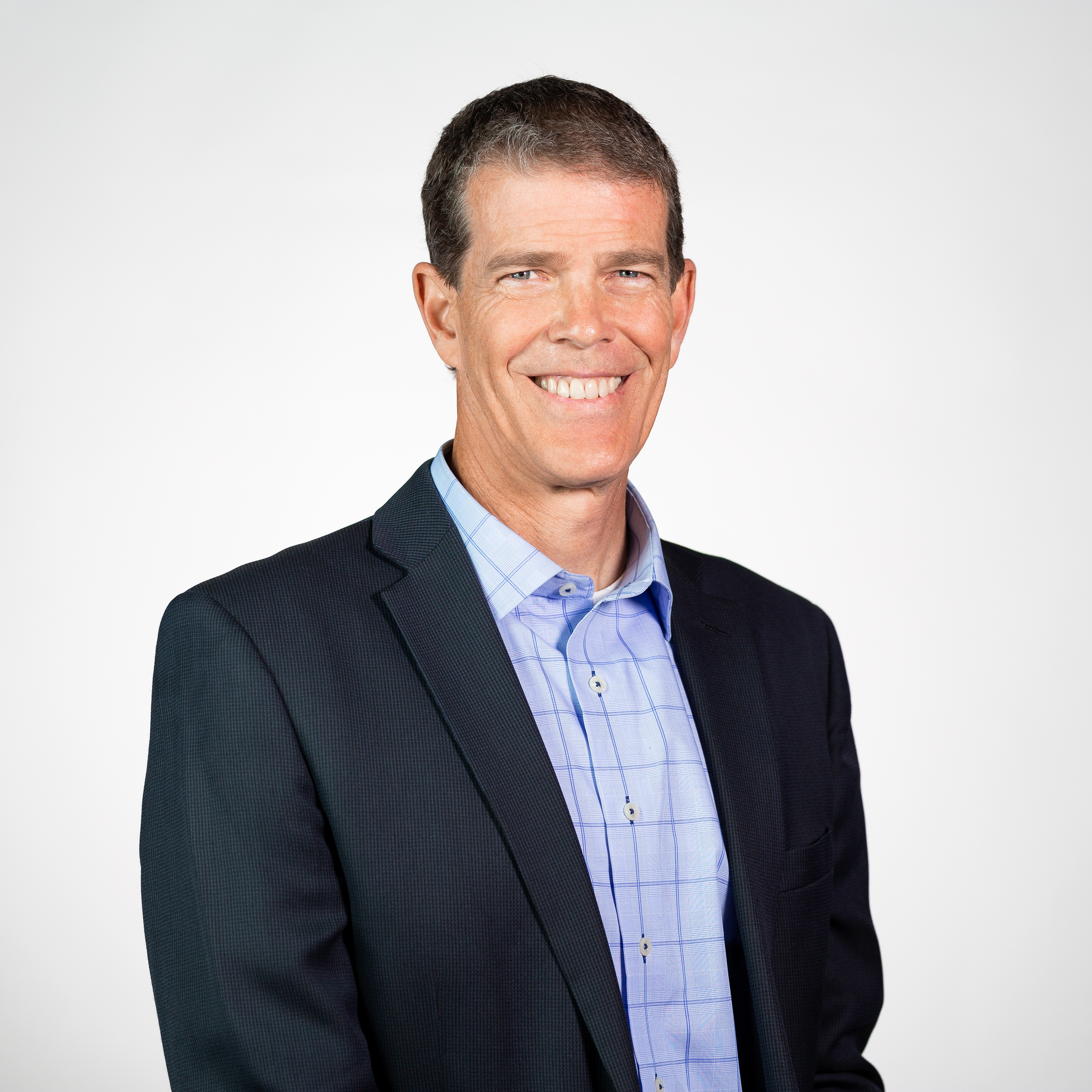 Mike McCormick, AIA
Mike McCormick was named Associate Vice President for Facilities Management and Development in June 2021. McCormick has 35 years of experience in the industry and has been a leader in collaborative delivery methods and capital planning. Prior to joining Cal Poly, Mike served six years as the Associate Vice President of Asset Management and University Architect for the University of Washington. While at UW, Mike managed 30 million square feet of campus space and off-campus real estate and guided the planning and delivery of over $5B of projects across three campuses.  In this role he introduced "integrated design-build" as the preferred delivery method in addition to the creative use of P3's, yielding numerous design awards and significant cost savings.  During his time in Washington, he also led the creation of green building standards, a green revolving fund, and a university-wide Sustainability Action Plan. He was instrumental in leveraging funding and data analytics to create better outcomes for customers, reduce deferred maintenance, and decrease carbon footprint.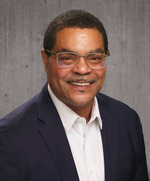 Mick Penn
Mick Penn works for Swinerton as the Northern California Regional Community Relations Manager.  Mr. Penn spearheads Swinerton's workforce development, small, diverse, veteran business outreach, and community engagement in Northern California.  Mr. Penn currently serves on the board of directors of, United Playaz, the Western Regional Minority Supplier Development Council, Cypress Mandela Training Center, Mission Hiring Hall, Construction Industry Education Foundation Board of Trustees, AGC of CA DEI Steering Committee and is a Founder of BuildOUT California.  In 2021, Mr. Penn was named the Western Regional Minority Development Council's Supplier Diversity Leader of the Year and the Associated General Contractors of California's Construction Education Foundation Friend Award winner. Mr. Penn has a BA from San Francisco State and a Master of Public Administration from the University of San Francisco.
---
Moderator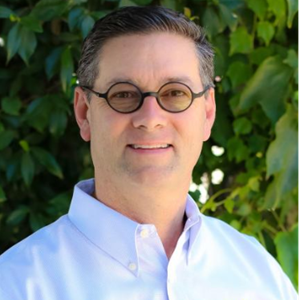 Jim Carroll
Jim Carroll is the Associate Vice Chancellor & University Architect at the University of California, Davis. He leads the skilled team at Design & Construction Management (DCM), managing Capital and Space Planning, Special and Capital Project Management, Integrated and Engineering Project Management, Campus Engineer, and Real Estate Services. DCM coordinates these efforts on campus with Facilities Management (operations), Campus Planning and Safety Services. Jim has completed higher education projects of virtually every type, in both private practice and public service during a career that spans nearly thirty-five years.