Back to Events
COAA-MI Distillery Tips & Sips Networking Hour
Thursday, June 10, 2021
Event Details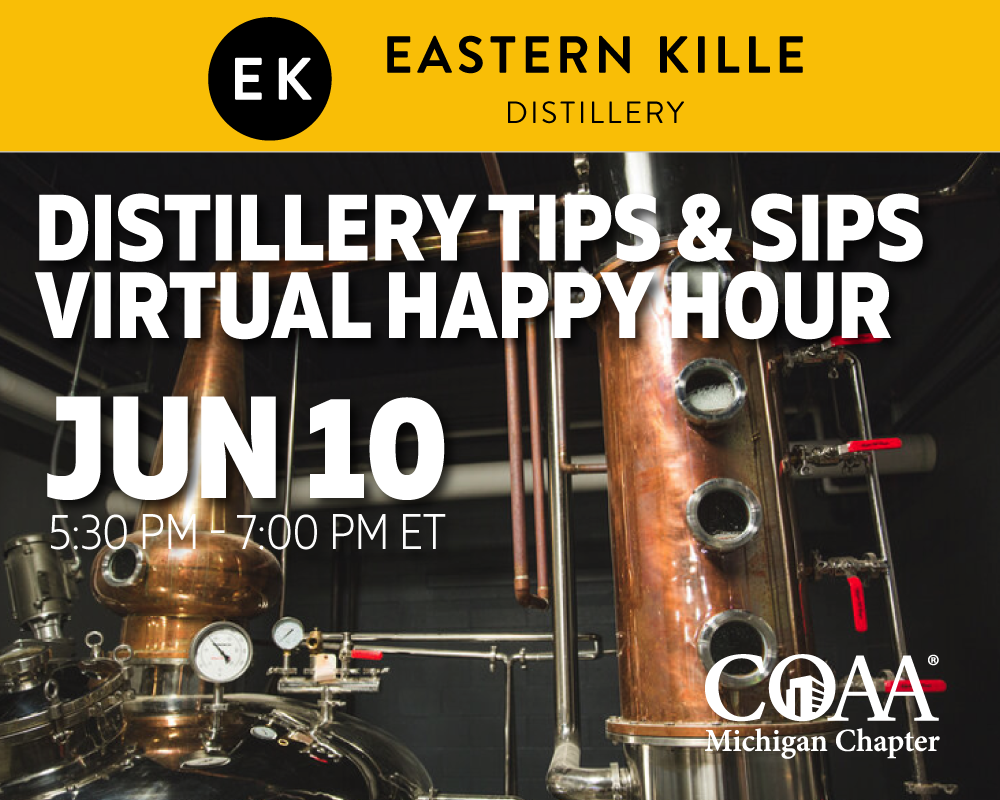 Join COAA-MI for a unique networking opportunity. Come listen to Brandon Voorhees, co-owner of Eastern Kille Distillery talk about the history of whiskey, and how it's being made in Grand Rapids, MI. Don't miss this opportunity to reconnect with old and new COAA friends.
About Eastern Kille Distillery: Crafting authentic spirits from grain to bottle with natural elements in the heart of Grand Rapids — that's been the story of our distillery since 2014. Beginning in 2020 we're writing a new chapter, under a new name: Eastern Kille. It's Middle Dutch for riverbank. That's where you'll find us, just off the eastern banks of the Grand River; making spirits with water from the Great Lakes. It's been our company's mission to produce premium spirits from obsessively-sourced, quality ingredients. With our bourbon, gin and whiskey, we respect tradition but dare to explore unique flavor profiles. Distilled and bottled in the heart of the city, by Michiganders like you.
Cocktail Recipe
During this event Brandon will show us how to make the
Boulevardier Cocktail:
1oz Bourbon (or Rye) of choice
1oz Sweet Vermouth of choice
1oz Campari Liqueur
Add the above ingredients into the cocktail tin with ice. Stir for 20-30 seconds. Strain into fresh glass with new ice. Garnish with orange peel.