Back to Events
COAA-MI 2021 Smart Lunch: It's going Green, I'm yelling Timber!
Wednesday, February 24, 2021
Event Details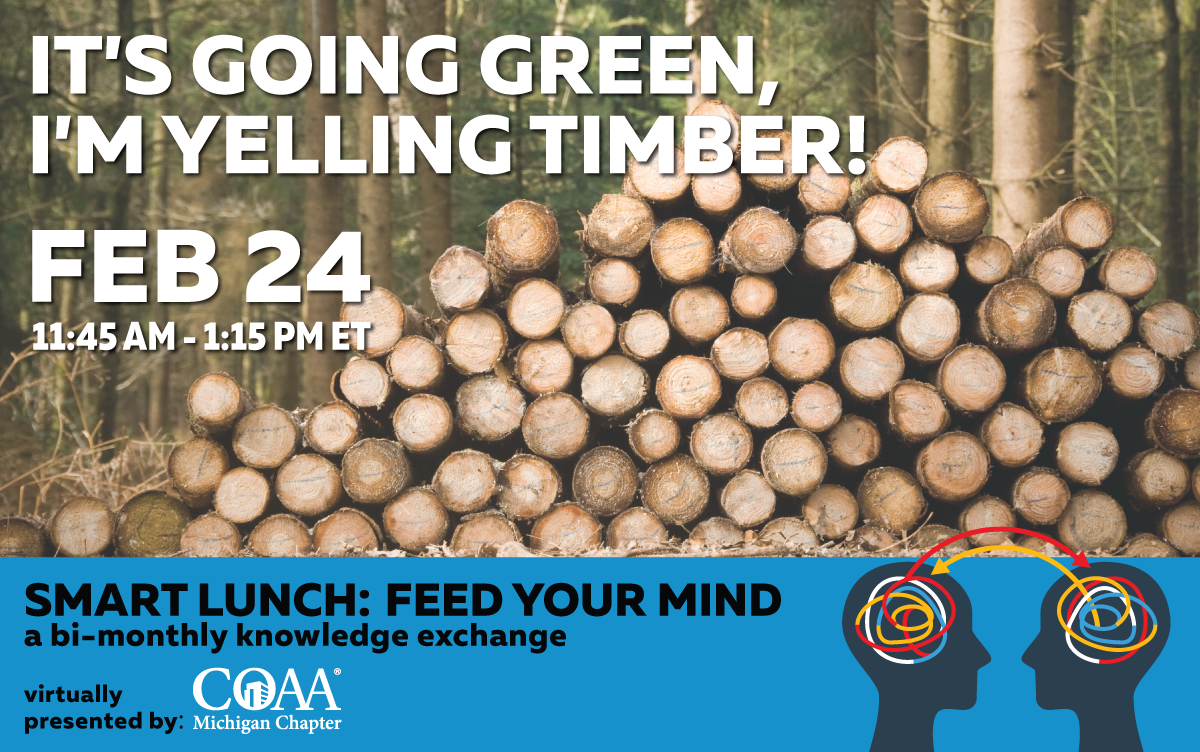 Join COAA-MI for our first program in our new virtual series, Smart Lunch: Feed Your Mind. This bi-monthly series will bring topics of interest to the Owner and AEC communities over the lunchtime hour. So, mark your calendar for February 24 as we kick-off this new series and plan to join us for great networking and knowledge exchange.
It's going Green, I'm yelling Timber!
Michigan State University's new 167,000-SF STEM teaching facility is breaking new ground with the first significant use of cross-laminated timber (CLT) in the state. The University and design team chose an exposed mass timber structure of CLT floors and walls supported by a glue-laminated timber frame to realize the University's goals of innovation and sustainability while functioning as a visual learning tool. In this presentation, the owner, architect, and constructor will share drivers for the use of mass timber, design considerations, and discuss lessons learned from preconstruction coordination through field coordination and erection.
Learning Objectives
After attending this program, participants will be able to:
Explore the design team's approach to material and construction selection for a mass timber building in lieu of traditional steel systems.
Review the code approval and local permitting steps taken to achieve compliance for a first-of-its-kind mass timber building.
Discuss the construction process of mass timber buildings, highlighting items such as speed, inspections, and erection.
Demonstrate the benefits realized by tenants of a mass timber building, including aesthetics and occupant comfort.
Panelists
Jeff Bonk, Capital Project Delivery Manager
Michigan State University
Jeff Bonk has twenty-nine years of experience in the facilities field, having the opportunity to serve in multiple capacities including master electrician, facilities manager, construction project manager, electrical engineer, and university leader. This broad range of experience has allowed him to effectively contribute to the leadership of over three hundred million dollars of capital projects over the last seven years. Currently serving a Capital Project Delivery Manager at Michigan State University Jeff is responsible for leading the design team and design on campus. Jeff has a Bachelor of Science degree in electrical engineering, is a certified facilities manager (CFM-IFMA) and LEED AP (USGBC)
Bill Bofysil, Project Manager
Granger
Bill Bofysil has more than 12 years of construction management experience and currently serves as a Project Manager for Granger Construction. A strong leader, Bill promotes a lean culture and challenges his project teams to continuously improve through the adoption of lean construction practices. He enjoys building strong relationships with Owners, Architects, and Engineers and ensuring successful construction experiences.
At Granger, Bill is responsible for total project management, negotiating subcontracts, and providing day-to-day communication with the project team to ensure jobs remain on schedule and within budget.
Bill earned a Bachelor of Science degree in Construction Management from Ferris State University. His experience overseeing all phases of construction projects spans several market segments, including higher education, healthcare, corrections, and industrial. Other highlights of his work include extensive HVAC improvements, steam utility upgrades, and renovation projects of both occupied and unoccupied spaces. Outside of work Bill enjoys being outside and golfing, as well as coaching his sons' floor hockey and basketball teams.
Kevin S. Marshall, AIA, LEED, AP BD+C, Senior Associate
Integrated Design Solutions
In addition to serving as project architect for the STEM Teaching Facility Project at Michigan State University, Kevin has been involved with a significant number of complex university projects at both MSU and the University of Michigan such as the UofM A. Alfred Taubman Wing and the MSU Eli and Edythe Broad Art Museum.  Kevin's professional interests revolve around the building enclosure and codes and he strives to create high-performing environments for his clients.  As an avid archer, Kevin belongs to Detroit Archers in West Bloomfield, Michigan and currently sits on its Board of Directors.