COAA Connect Offers Something For Every Budget and Business Goal
COAA's fall conference in Henderson, NV (November 17-19) will be the organization's first in-person national conference since November of 2019. The overriding theme of the event – "It's All About The People" – speaks to that milestone and correlates well with The COAA Way and its emphasis on the importance of people, team culture, and leadership by a "good Owner."
COAA has worked hard to develop value-packed sponsorship packages with a multitude of benefits to be realized before, during, and after the conference; golf, sessions, social media, conference app, and more!


FALL CONFERENCE SPONSORSHIP OPPORTUNITIES


GOLF SPONSORSHIP OPPORTUNITIES
Join us Wednesday, November 17 before the conference kick-off for a golf scramble on the Concord course at the Revere Golf Club in Henderson, NV. We will have a continental breakfast, before teeing off at 7 am PST, followed by lunch at Revere. Shuttles to and from the golf course will be provided. 
VIEW SPONSORSHIP OPPORTUNITIES
SPONSORED THOUGHT LEADERSHIP OPPORTUNITIES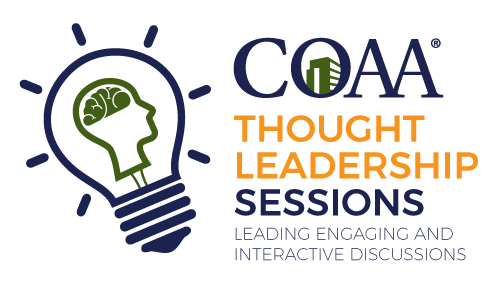 During lunch on Thursday, November 18, COAA plans to offer conference attendees the chance to participate in small group discussions led by a product or service-providing sponsor. Please review the details of this Call and respond only if all requirements & stipulations are thoroughly understood.

What This Is:
A chance for service or product providers to engage with Owners and other conference attendees by leading an interactive discussion of a topic of interest to Owners
An investment by participating firms in COAA's mission to educate and support facility/project Owners ... to essentially help them become better, more informed clients
What This Is Not:
A platform for selling, promoting, or marketing products or services
An invitation for a lecture or presentation
This is a competition. COAA expects to receive numerous proposals from a variety of firms and only the best and most thoughtfully conceived ideas will be chosen for a limited number of slots. Selections will be made by COAA staff and volunteers, and COAA reserves the right to reject any or all proposals.
For selected proposals, the cost of the sponsorship is $1,000 plus the cost of two conference registrations for the sponsor's discussion facilitator and scribe, payable to COAA no later than September 30.