COAA-FL Fall 2021 Workshop
Date posted
September 29, 2021
"Start slow if you want to build fast ... spend time thoughtfully planning to minimize delays during construction." This was one of several golden nuggets offered during a September 24 workshop in Winter Park, hosted by the Florida chapter of COAA ... the first in-person COAA-FL event since February of 2020.
Roughly 80 Owners and Associates enjoyed two sessions, lunch, and an optional tour of the spectacular new Winter Park Library.
Following opening remarks by chapter leaders Bill Martin (UCF) and Stuart Cullen (UF), the first session featured a panel discussion of the current economy and market conditions. Chris Harris from UCF moderated the panel, which included Steve Williams (CPPI), John Trickey (Brasfield & Gorrie), Richard McCree (McCree), and Rick Fourie (Fourie). Among the observations made by these experts:
Price increases were caused 6-12 months ago by COVID; now, it's inflation ... construction escalation has exceeded inflation every year since 2001
Certain materials beginning to stabilize, others still experiencing 10%-20%
Material shortages and lead time issues exacerbate the issue
Labor is the next problem, coming in 6-12 months
High prices at the top of a recession is weird and atypical; escalation for many products & materials is artificial
Hard bid jobs are tough because nobody will hold prices for very long
Estimating is based on historical pricing, which now doesn't work
Just-in-time ordering used to be typical but is going by the wayside; can't count on it now
Thankfully, the panelists had even more to offer in the way of advice and suggestions for Owners: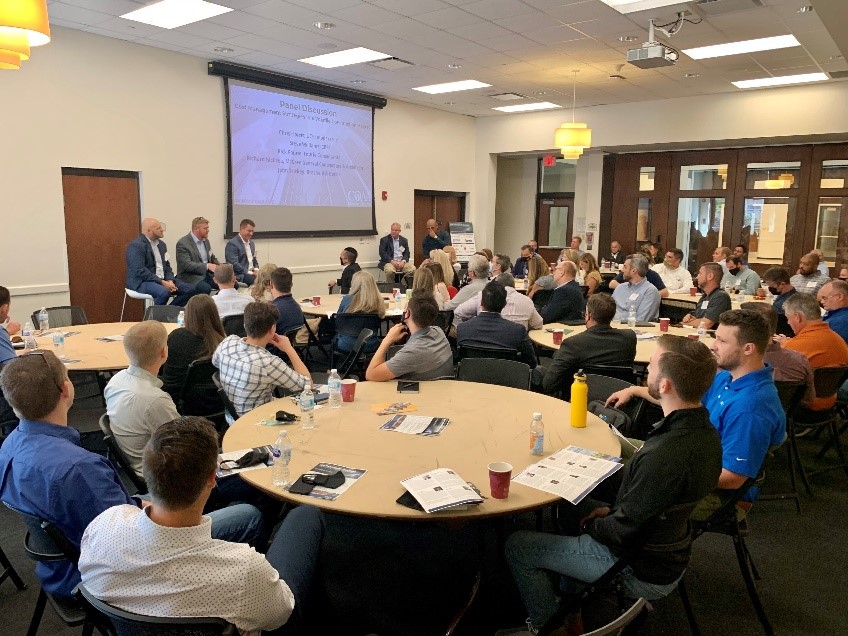 In times of change, go back to what you KNOW well and let that be your base
Understand the large differences between cost and value
Understand what you're getting and what has been designed ... is it overkill?
Look closely at design details and specs for sole source requirements, which limit competition
An overabundance of plan notes forces bidders to price the worse possible conditions
Make decisions quickly (and stick to them if at all possible)
Trust your professionals and communicate well with them
Make your project more attractive to trade contractors and create a more favorable environment by paying timely; treating them with respect; involving them early if possible; and valuing and relying on their expertise
Consider pre-fabrication
Consider incentives like discounts for super early payment ... but be wary of subs who consistently ask for that, as they might have a cash flow problem
Purchase early – storage space is often less expensive than escalation
Speaking of the panel discussion, Bryan Emde with AdventHealth said, "It was great having an opportunity to spend time with other Owners who are also trying to build during this challenging time. The advice the panelists gave about ways to help improve the bidding environment on our projects was very timely."
Lunch included recognition of event sponsors, a brief organizational update by COAA Executive Director Howie Ferguson, and an overview by Carl Leneis of Construction Angels, an industry charity that supports the families of construction workers who die on a jobsite.
The second session offered two perspectives of the nearly complete Winter Park Library in advance of a tour of the iconic facility:
Betsy Gardner Eckbert with the WP Chamber of Commerce explained the difficulties getting community buy-in for the project and offered sound, candid advice to Owners with respect to messaging, politics, and the importance of strategically planning interactions with decision-makers and other influencers. She also suggested having a strong proponent/champion for the project and leveraging social media to drive the desired narrative.
Design and construction professionals with HuntonBrady and Brasfield & Gorrie then used planning and design imagery to explain the beautiful and complex design by Sir David Adjaye.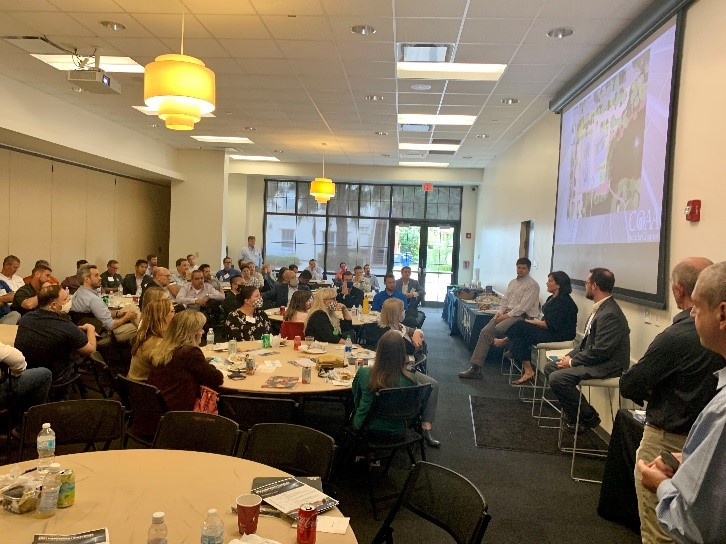 Great discussion and advice, good food, and an interesting case study ... but above all else, attendees were thrilled to be back to in-person gathering and looking forward to the next gathering of the COAA-FL chapter. "This workshop was the perfect trio of professional development, local project progress, and what we've all missed – in-person networking," added Mimi Flatley, Community & Citizenship Manager with Turner Construction Company.