How the New COAA eForum is Advancing The COAA Way
Date posted
February 24, 2021
by: Jill McKenzie, COAA
In 2020, something amazing was born. 

If you have been a COAA member for a while, you might recall when the eForum was a listserv that allowed members to pose questions to other members of the group via email. Anyone born in the 1990s is probably thinking, seriously?  The answer is yes, that was "way back" before broadband, online video, social networking, and website analytics. 

In 2020 – as part of a broader "COAA Connect" transition to help members remain engaged and connected despite the pandemic – COAA transitioned the eForum to the Microsoft Teams platform to encourage easier, more dynamic interactions. The Teams application allows members to broach matters of interest, exchange thoughts and ideas, share documents, and get answers to the questions and challenges they face in real time. This can be done 24/7/365 on any device (laptop, phone, etc.) where the Teams platform lives.   
If you have ever attended an Owners Roundtable at an in-person COAA conference, you know how valuable the peer-to-peer exchange of information can be. The eForum is basically an electronic version of the Owners Roundtable, but it's available any time and requires no travel … just fingers or thumbs. Whether it's to discuss new industry tools or project challenges – or just wonder if anyone else has ever encountered a unique situation – the eForum is designed to let members who "opt in"  ask, communicate, and even network.
"The eForum is a great way for members to get connected and plugged into the COAA community," according to Shawn Kelly with UNC-Charlotte.
The eForum currently  has three dedicated "channels": general, COVID-19, and small/minor (but mighty) projects. Another exciting component of Teams is that participants can create new channels at their discretion to focus on any topic of interest.
Clay Seckman with Nashville-based SSR has quickly become a big fan, noting that "there are few venues that offer meaningful learning experiences with no axes to grind and nothing to sell, where people can simply benefit from others' wisdom ... the eForum platform offers an excellent opportunity for genuine communication and learning."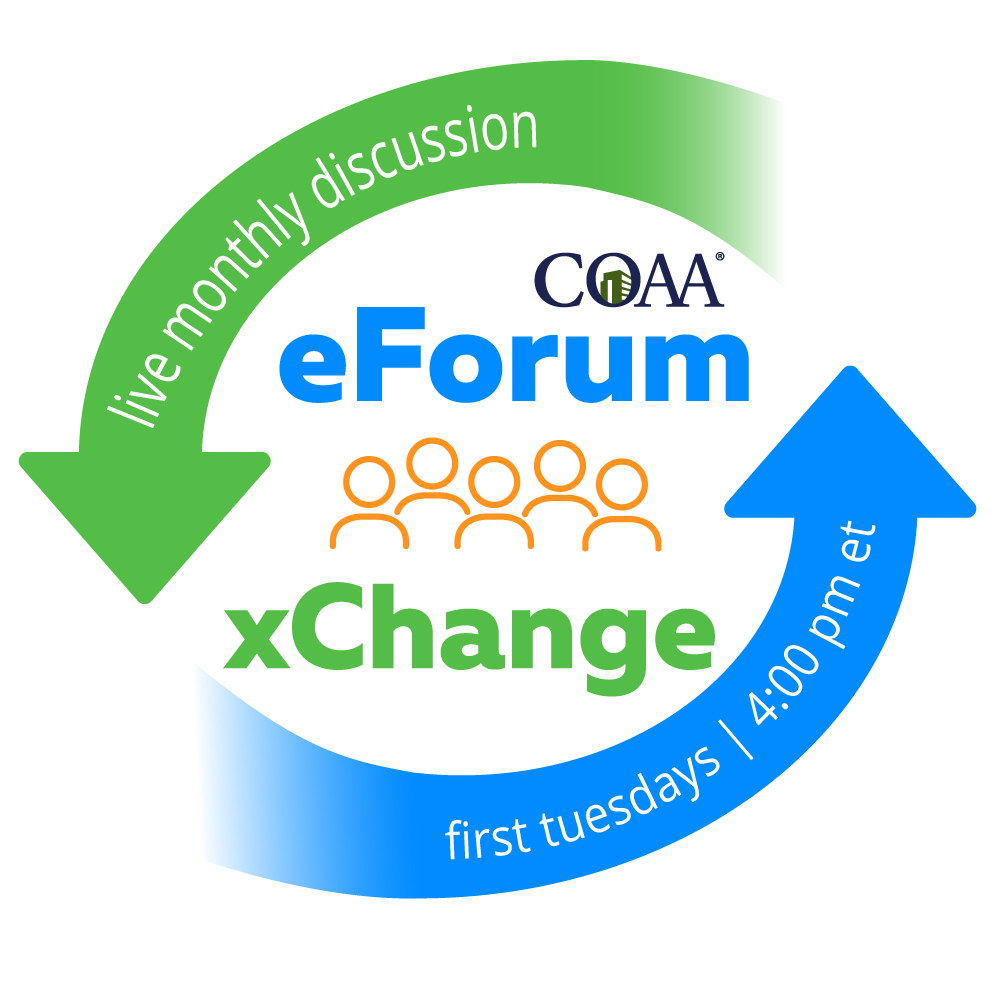 COAA enhanced the eForum by supplementing it with a monthly video call that's now dubbed the "eForum xChange."  For an hour on the first Tuesday of each month, members can chat live about a specific topic. Topics to date have included such career advice from the "old guard," small/minor projects, construction management at risk delivery, and psychological aspects of dealing with the impacts of COVID. 
If you're a COAA member and not connected to fellow members through the eForum, you're missing out on a valuable benefit.  To opt in, simply contact any member of the COAA staff and ask to be added.  Leaning on peers and helping a peer … this is a perfect example of The COAA Way … so opt in now!