After the COAA Connect Fall 2021 conference concluded, a dozen conference attendees traveled to the United Brotherhood of Carpenters (UBC) and Joiners of America International Training Center in Las Vegas.  The UBC has over 500,000 members and more 200 training locations across North America.  They work not only to "train the trainers" but also gather true subject matter experts to collaborate and produce the various textbooks and curricula used in their training programs.
We were greeted by two representatives – Randy from the UBC Department of Education and Training and Andy from the Carpenters International Training Fund – and provided with an assortment of beverages, snacks, and freshly-made banana & chocolate protein shakes set out in the beautiful conference room reserved for our group.  We listened to about an hour of presentations, then proceeded to tour the 27-acre campus.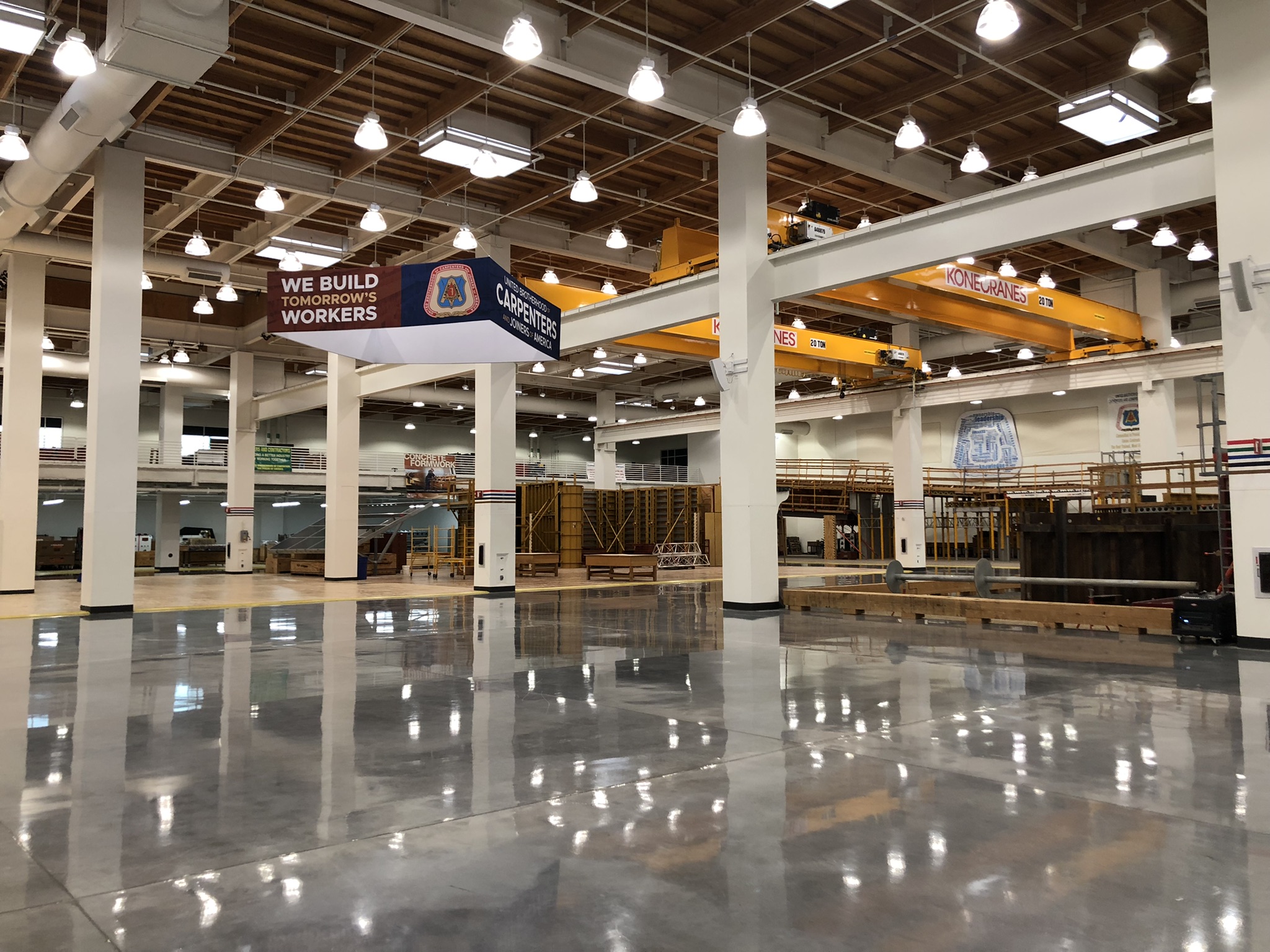 Did you know, as a union carpenter, it is free to travel to, reside at, and attend trainings at the UBC International Training Center (ITC)?  Free, including the airfare, shuttle to/from the airport, lodging and meals provided at the facility, training fees, textbooks, equipment, and materials!  The ITC, which hosts about 13,000 trainees each year, is comprised of classrooms, large warehouse-style shop training areas, a museum dedicated to the history of carpentry, "dorm" (more like hotel) rooms with private bathrooms, a cafeteria, a bar/lounge, a pool, a fitness center, basketball courts, horseshoe pits, other recreational options, and just about everything necessary to make an attendee's stay enjoyable and comfortable.  The ITC offers programs for third year apprentices up to journeymen, foremen, and experienced superintendents.
Not only does a trainee receive opportunities to refine the technical skills required for various career paths within carpentry, but they are taught things like finance and accounting for business, as well as the soft skills required to flourish as a leader.  The COAA tourists noticed repeated similarities between the messages shared during the presentations and the sessions covered at the "All About The People" COAA Connect conference.  UBC recognizes that the primary reason a person leaves a job is their relationship with their immediate supervisor.  To address that, they teach Transformational Leadership, which focuses on development and growth through individualized consideration, intellectual stimulation, inspirational motivation, and idealized influence.  They also pride themselves on having a Constructive Culture, with an emphasis on minority and veteran outreach, including a group called "Sisters in the Brotherhood."  Sound like the COAA Way?
We learned a surprising nugget of information (even to the wise and experienced Mr. Joe Sprys) ... the average carpenter spends more time erecting scaffolding than any other task.  This explains why the ITC dedicates space in one of the shop training facilities (underneath a retractable, sliding roof) to teaching and practicing scaffolding.  Other specific training opportunities include turbine and engine disassembly and reassembly, overhead crane operation, pile driving, foundation construction, concrete forming, ironworking, panelized and modular building construction, storefront and building envelope construction, window and roofing installation, flooring design and installation, and door hardware assembly and installation.  There was even an above-ground tank for underwater welding and inspection training.
The campus also features a museum that's best described as super cool, showcasing the evolution of carpentry, tools, instruments, and textbooks used since the early 1800s.  There was even a suspended 1,400-pound plumb bob on display in the lobby!
I speak for the group when I say this facility, the organization, and their mission/vision/values were truly impressive to witness and learn about, and we are thankful to LaKaya, the Conference Committee, and the COAA Staff for organizing this unique opportunity!
For more information, please contact andy.carr@carpenters.org or visit www.carpenters.org.