Back to Events
Event Details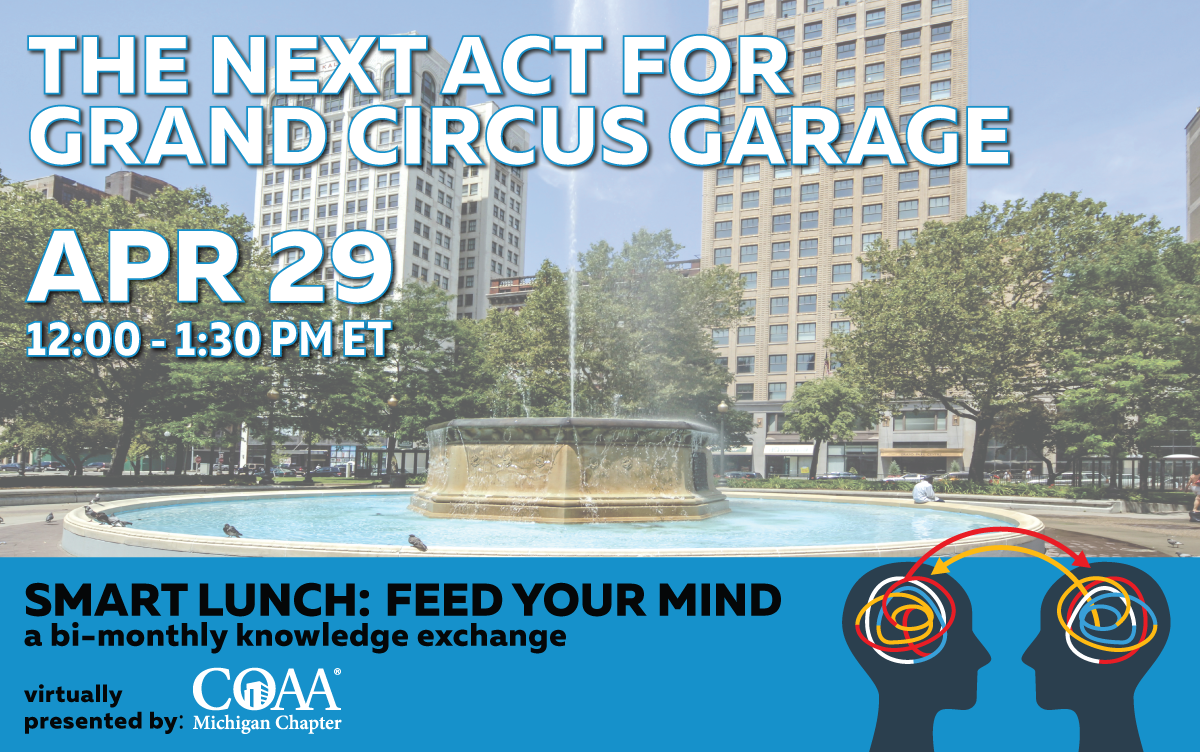 Join COAA-MI for our first program in our new virtual series, Smart Lunch: Feed Your Mind. This bi-monthly series will bring topics of interest to the Owner and AEC communities over lunchtime hour. So, mark your calendar for April 29 for the next session in the series and plan to join us for great networking and knowledge exchange.
The Next Act For Grand Circus Garage
The Grand Circus Park garage in Detroit, Michigan was originally built and owned by the City of Detroit in 1955. It serves as a major facility crossing under Woodward Avenue and supporting the revitalization of downtown Detroit. After decades of neglect and disrepair by the city, Grand Circus Holdings, led by Roxbury Group made a major investment in the garage to restore structural safety, improve durability and provide safe and comfortable parking for decades to come. Roxbury took advantage of Investigate-Design-Build to provide the most value on a tight budget.
Design-Build and Integrated Project Delivery are growing delivery systems for major new construction projects. However, similar and additional benefits can be gained in using an integrated Design-Build approach for both small and large repair projects where there is a need to identify the degree of the problem and the root cause before developing the proper repair design. For these types of problems, a team IDB (Investigate-Design-Build) approach extends the advantages of Design-Build to the investigative stage and enhances the results during the design and construction phases.
Learning Objectives
After attending this program, participants will be able to:
How to apply an investigative front-end step to create a design-build procurement approach for major repair and renovation projects.
Step-by-step description of investigate-design-build (IDB) approach for structural repair, retrofit and upgrade projects.
Analysis of each stage of the IDB process and pros and cons for typical project scenarios.
How an IDB approach can create the lowest total cost for major repair or renovation projects.


Panelists
Dennis Sanschagrin
PULLMAN
Dennis Sanschagrin is a Senior Vice President for PULLMAN. He has over 29 years of experience in the repair and restoration of existing commercial facilities, including corrosion mitigation, structural strengthening, post-tension repair, and façade restoration.
Dennis assists all types of commercial owners with their design-build projects around the country. He has experience teaching about integrated product delivery systems and how to procure them to small groups of owners at their facilities as well as presentations for larger groups at association meetings.
Dennis is active in several AEC organizations, including national and local chapters of ASHE, APPA, BOMA, Building Congress, NPA, and COAA.
Dennis has a BS in Civil Engineering from the University of Maryland and an MBA from George Mason University.
Brandon Keezer
PULLMAN
Brandon Keezer is a Senior Project Manager for PULLMAN in the Detroit office. He has 15 years of experience in the repair and restoration of concrete masonry and steel structures. He has been directly involved in many of the largest design-build repair and restoration projects for PULLMAN including Courthouse Square, Grand Circus Garage, and GLWA 7 Mile Nevada Pipe Upgrade.
Brandon is an expert in the evaluation, design, and repair of structures and works collaboratively with owners and designers to bring unique solutions to fruition.
Brandon has a BSE in Construction Engineering and Management from the University of Michigan at Ann Arbor.
Matt Lewis
Wiss, Janney, Eistner Associates, Inc.
Matt Lewis grew up in Fairbanks, Alaska. His combined passions for science and engineering, as well as ice hockey, led him to Michigan Technological University where he completed his undergraduate and graduate degrees consecutively.
Throughout his Civil Engineering studies, Mr. Lewis had a shared interest in structural engineering and construction, making Wiss, Janney, Elstner Associates, Inc (WJE) – a firm that exclusively solves problems for existing buildings and structures – a perfect fit.
Mr. Lewis began with WJE immediately out of school and has happily been with the firm for over 18 years. In that time, he has worked on a myriad of projects around the country solving problems for nearly all types of construction materials on a wide variety of buildings and other structures.