Back to Events COAA-FL Spring 2023 Workshop
Friday, February 24, 2023
* Registration open until 2/22/23 at 5:00 PM ()
Event Details
The COAA-FL chapter returns to Gainesville for a workshop focused on one of the largest projects ever executed at the University of Florida ... a 1,400-bed Honors Village delivered through a unique version of Design-Build.
Night-Before Gathering! Join us at 6:30 PM on Thursday, Feb. 23, at First Magnitude Brewing Co. BYO$ and no registration required.
Attendees will also get to tour two unique and recently-completed facilities on the UF campus:
FL Museum of Natural History Special Collections Building
See this state-of-art, 23,000 square foot facility that houses more than 40 million biological, paleontological, and archaeological specimens and cultural artifacts ... from mammoth bones and freshwater mollusks to ancient pottery and rare endemic plants. Special systems include high density shelving, specialized air handling, spark-free lighting fixtures and equipment, large-scale fume hoods, and temperature and air quality sensors required for spaces housing materials preserved in alcohol.
The James W. "Bill" Heavener Football Training Center at the University of Florida was completed just before the 2022 football season. The 142,000 SF building includes two floors of high-performance training spaces for student-athletes, with modern amenities throughout the facility that support UF's efforts to recruit and retain top talent, including:
A two-story weight room with a running track
A sleek and spacious locker room with plush recliners for each athlete
Recovery spaces, including a sports medicine clinic, cryotherapy rooms, sauna and steam rooms, float tanks, and hydrotherapy plunge pools
A virtual reality space for game simulation
An all-team auditorium with stadium seating and other meeting space
Dining hall, lounge spaces, barber shop, and game room
An outdoor pool, multi-purpose lawn, and a basketball court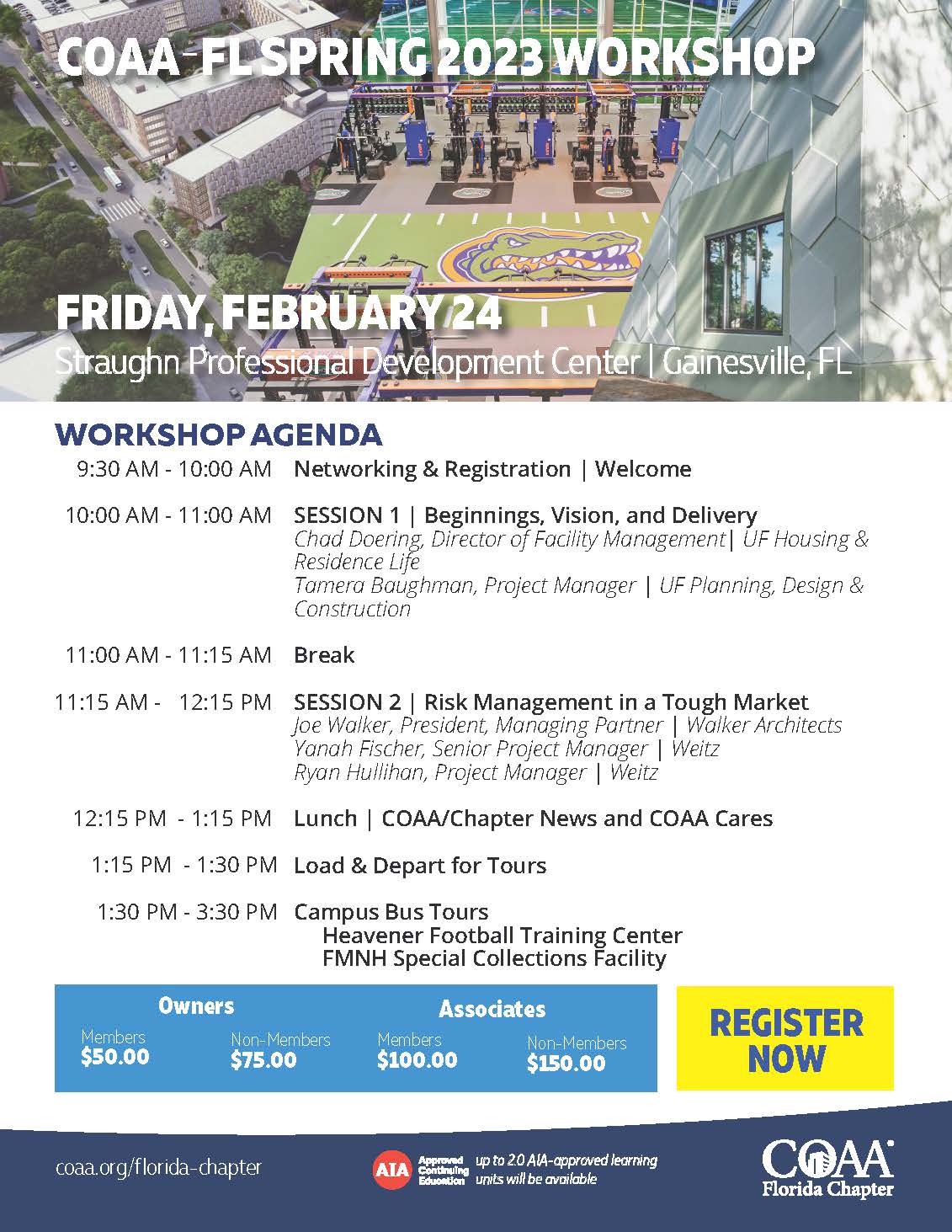 Agenda
February 24
9:30 AM - 10:00 AM

Networking & Check-In

10:00 AM - 11:00 AM

Session 1

11:00 AM - 11:15 AM

Break

11:15 AM - 12:15 PM

Session 2

12:15 PM - 1:15 PM

Lunch | COAA News and COAA Cares

1:15 PM - 1:30 PM

Load & Depart on Tours

1:30 PM - 3:30 PM

Campus Tours
For More Information: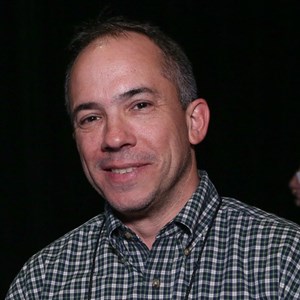 Howie S. Ferguson
Executive Director
Construction Owners Association of America
The Honors Village at UF will provide housing for up to 1,400 students through both traditional space for underclassmen and non-traditional space for juniors and seniors. The workshop will consist of two sessions focused on this unique project, with strategies and take-aways for almost any Owner.
Session 1 | Beginnings, Vision, and Delivery
Chad Doering, Director of Facilities Management, UF Housing & Residence Life
Tamera Baughman, Project Manager, UF Planning Design & Construction
Project leaders will discuss how the project was envisioned; share specific insights from the programming phase; and explain how this massive project - the largest higher ed housing complex ever built in the state of Florida - was justified and approved.
UF chose a different form of Design-Build delivery for this project, including the creation of a "design criteria package" and bridging documents. Project leaders will explain the why and how of that decision and also review how this impacted the D-B selection process and prompted changes to the template UF design-build contract.
Session 2 | Risk Management in a Tough Market
Joe Walker, President, Walker Architects
Yanah Fischer, Sr. Project Manager, Weitz
Ryan Hullihan, Project Manager, Weitz
The D-B team will discuss risk mitigation strategies, including:
Planning phase strategies to help mitigate supply chain challenges
Construction phase activities that leveraged Virtual Design and Coordination with as-built site scanning and drone verification
Communication strategies throughout the entire project