COAA Cares Builds Happy Wheels at COAA Connect Fall 2021
Date posted
December 17, 2021
Prior to and throughout COAA's first in-person national conference in two years, attendees devoted countless hours and energy to building a "Happy Wheels" cart for the Ronald McDonald House of Greater Las Vegas on behalf of COAA Cares (Connecting Attendees with Rewarding Experience and Service). Happy Wheels carts are used within pediatric wards and hospitals to provide books, activities, snacks, and other items to hospitalized children and their parents and siblings.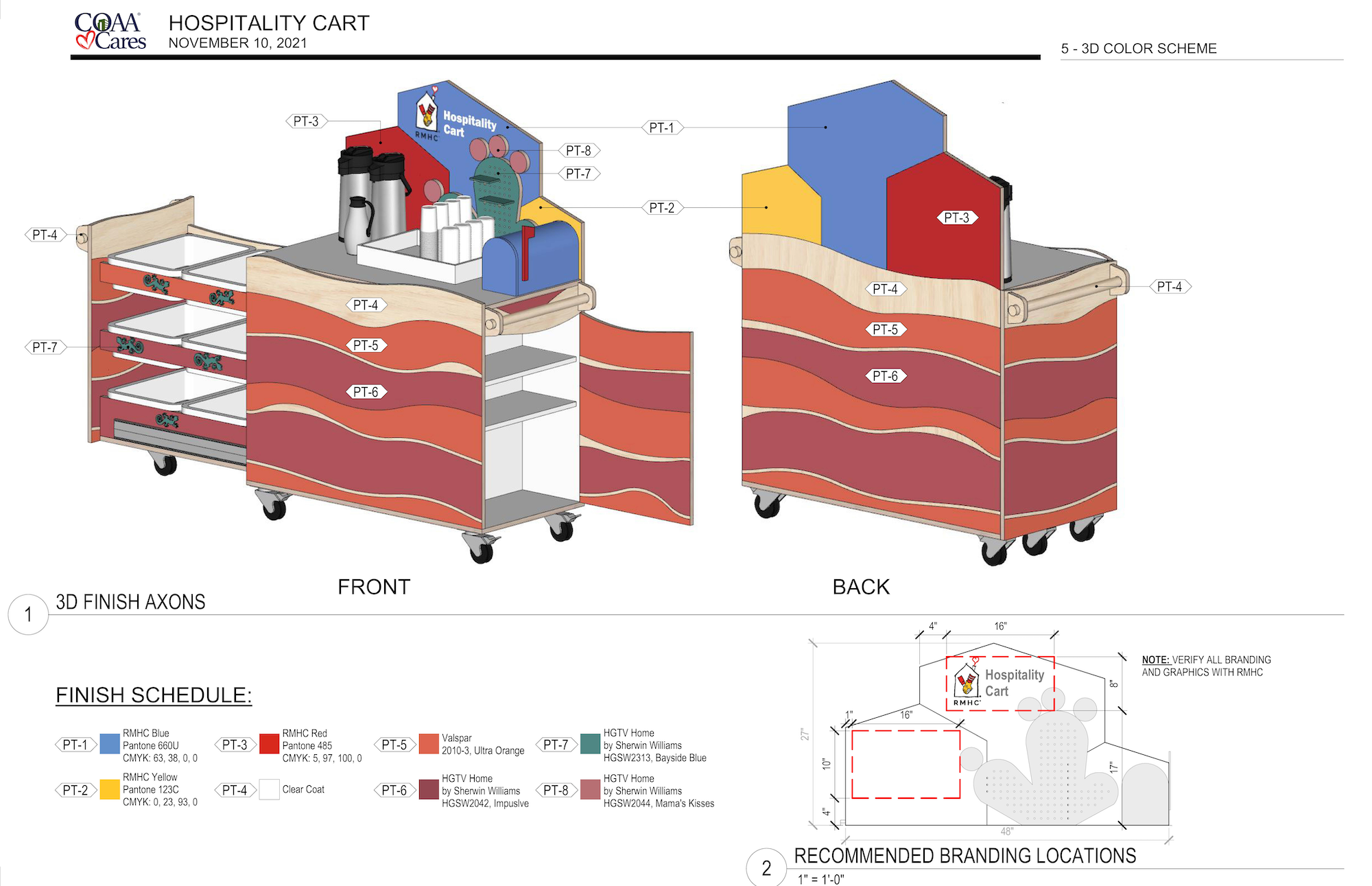 The Happy Wheels cart project actually began months earlier when Tina Montone with Conspectus brought the idea to the COAA Cares team. Since there is no template or standard for these carts, COAA Executive Director Howie Ferguson proposed a virtual design charette and Carli Cole and her colleagues at HGA took up the mantle. Deliverables from the two design workshops included broad visioning concepts, imagery that resonated with volunteers, and drawings that essentially served as onsite construction documents.
The team identified local partners who provided significant help with the project: the Carpenters International Training Center, which was the location of the Friday afternoon conference tour, provided and cut birch plywood for the build and the Henderson office of McCarthy Building Companies provided floor protection, drills, and other tools for assembly. A local Lowe's agreed to free delivery of purchased items from a Bill of Materials developed by Montone.
A small throng of conference attendees worked feverishly to complete the project in less than 48 hours, but special recognition must also be given to Joe Sprys, National Heritage Academies, and his wife Carol, who made countless trips to Home Depot and Lowe's. Cy Rangel with Purdue University was indispensable, handling much of the construction of the cart; and Dave Stutzman, founder of Conspectus, called in a favor and got three gallons of Behr custom paint in Ronald McDonald House's signature colors delivered to the conference hotel. The finished product was an adorable 4' x 2' pushcart on five casters with drawers, bins, and shelves painted to resemble the desert setting – complete with requisite cactus.
Over Friday's lunch at the conference, Christine Fernandez, Volunteer Manager from Ronald McDonald House Charities of Greater Las Vegas, was on hand to formally accept the labor of love created by conference attendees.
The COAA Cares team is already making plans to build another Happy Wheels cart at COAA Connect Spring 2022 for the Ronald McDonald House of Baltimore and hopes to continue similar projects at both the national and chapter level.
With roots established at the fall 2019 conference, COAA Cares was created in early 2020. Its mission is to support the greater good through a two-pronged approach
providing rewarding, fun, and well-organized opportunities for members and stakeholders to "give back" via tangible, hands-on activities at COAA events
supporting and raising awareness of charitable organizations within the AEC industry.
If you are interested in learning more or helping support COAA Cares, contact Jill McKenzie.
| | | |
| --- | --- | --- |
| | | |