COAA-GA Fall 2022 Workshop Recap
Date posted
October 19, 2022
COAA-GA recently hosted its annual fall workshop on the campus of Georgia Tech. Tech provided the beautiful Dalney Building for the meeting space and helped with programming, including a walking tour of several newly completed projects on campus. As always, we appreciate our sponsors, both annual and event. Our sponsors allow us to deliver high-quality workshops while maintaining lower registration prices. Thank you, we appreciate your participation and support!
Annual Sponsors: Daikin Applied and Parrish Construction Group
Event Sponsor(s): Newcomb & Boyd – Platinum, RMF Engineering – Silver, Turner Construction – Silver

The Workshop consisted of three education sessions followed by a guided tour of two newly completed projects: a highly sustainable landscape project (featured in one of the ed sessions) and the renovation/addition to the Student Center. Health, Safety, and Welfare credits were offered since two of the sessions focused on sustainability and one on safety. All three sessions offered great information, insights, and things to consider for future projects. The content was interesting and relevant - always a great combination. Here are some of the highlights from the day. We hope they'll entice you to consider attending future COAA events.
Session I:
Rebuilding the Way We Build Things: Recycling Construction Materials
John Lawrence (Principal, Terracon Consultants) and Marvin Woodward (Senior Project Manager, Atlas) highlighted creative project solutions that were both sustainable and saved money. The two projects used as case studies were the 5th Runway Embankment (Hartsfield-Jackson International Airport) and the State of Georgia's Judicial Center (Downtown). Both projects offered creative solutions for fill and confirming compaction while cutting down on waste from transportation.

The 5th Runway project utilized a mixture of rock and soil spoils from neighboring quarries. The material traveled to the site via a 4.1-mile-long conveyor belt that gathered and transported materials from three quarries to the construction site. (Very cool!) While the fill was useable and a great solution, it was determined traditional compaction methods wouldn't't work, so Terracon devised a technique using passes of heavy construction equipment and measuring elevations. The number of passes to achieve the desired compaction was determined and implemented through a series of tests.

The Judicial Building reused concrete from the demolished State Archives building to reduce waste and save money. Again, traditional methods for establishing compaction weren't applicable. Given the success and lessons learned from the 5th Runway project, Terracon was able to offer the tested and proven solution using passes of equipment and elevation changes to determine adequate, measurable, and repeatable compaction requirements.

On a personal note, I was very familiar with the Judicial Building project because I sat across from the GSFIC Senior Project Manager (Keenan Gist) while working there. Everyone could see the progress in real-time from the office windows, which is a lot of pressure on a PM, but it turned out fantastic. I worked on the abatement and demolition assessment and planning phase for the Archives Building (demolished for Judicial), so I understand the complexities of the site and the work that went into getting it to where it is. Marvin Woodward, also formally at GSFIC, is the person who got me involved with COAA, so it was nice to have him re-engaged.
Session II:
Ensuring Safe & Healthful Workplaces: OSHA Partnerships
Zack Garner (Regional Safety Director, McCarthy) and Robin Bennett (Compliance Assistance Specialist with the Department of Labor/OSHA) discussed the importance of safety and the benefits of partnering with OSHA on projects to ensure compliance and increase on-site engagement to reduce workplace injuries.
OSHA offers on-site consultation programs at no cost to employers and helps employers identify workplace hazards, advises on compliance, and helps employers establish safety and health programs. This service is separate from enforcement and confidential. (osha.gov/consultation)
The session highlighted the OSHA Strategic Partnership Program, its structure, and benefits, and how McCarthy and OSHA worked together on The University of Georgia's Poultry Science Complex to strengthen worker safety and health protocols, engagement, and compliance. Partnership activities included: job site safety audits/walks, trade partner safety reviews, safety committee meetings, toolbox safety meetings, job site training tracking, incident reporting, monthly partnership reports, quarterly OSHA meetings, quarterly consultant inspections, and annual partnership evolution inspections.
For any employer looking to increase safety and health considerations and compliance on a project site or in the workplace, OSHA offers a variety of ways to help create a safer work environment regardless of the industry or project. OSHA Cooperative Programs: Alliance Program, OSHA Strategic Partnership Program, Voluntary Protection Programs (VPP), and the OSHA Challenge. (www.osha.gov)
Session III:
Georgia Tech's EcoCommons: A Sustainable and Historically Significant Teaching Environment
Jerry Young (Landscape Project Manager, Georgia Tech), Jason Gregory (Sr. Educational Facilities Planner/Landscape Architect, Georgia Tech), Brian Connell (Project Executive, Turner Construction), and Chuck Ehmcke (Landscape Designer, Barge Design Solutions, Inc.) discussed Georgia Tech's thoughtful, innovative, and evolving EcoCommons Project. Spread across the campus, the EcoCommons will eventually encompass 80 acres of campus green space designed and engineered to reduce stormwater runoff by 50%. This series of green spaces traverses the campus following l naturally occurring stream paths (before urbanization).
The most recently completed section is 8 acres at the corner of Ferst Drive and Hemphill Avenue (running West down Ferst towards State Street and the highly sustainable Kendeda Building). The area was designed to mimic a traditional piedmont woodland and has three living landscape areas centered on the overarching project goals (Learn, Engage, and Reflect). Additionally, the landscape has sensors embedded to gather information for educational and research purposes.
The presenters packed a lot of exciting information on project development, including overarching campus and project-specific goals and how the design achieved each. It was interesting to hear the level of thought that went into the design and implementation. There are many levels to the project; it is thoughtful, technical, and innovative. The design addresses campus infrastructure and landscape goals while creating a comfortable and thought-provoking environment.
Equally interesting was the discussion of the construction process, which included a domestic water line break that washed over the site and required relocating planted trees to an area at 10th and Atlantic used as a nursery/holding lot for trees. (I live about a block away from the GT holding site and always wondered what they were doing…now I know.)
The EcoCommons was right outside our meeting room so we had glimpses of the landscape throughout the day, and it was part of our tour afterward. Well done by the entire team; it looks great! It's cool, functional, attractive, tactile, and all the other words you would want for a landscape/hardscape project. It even has slides...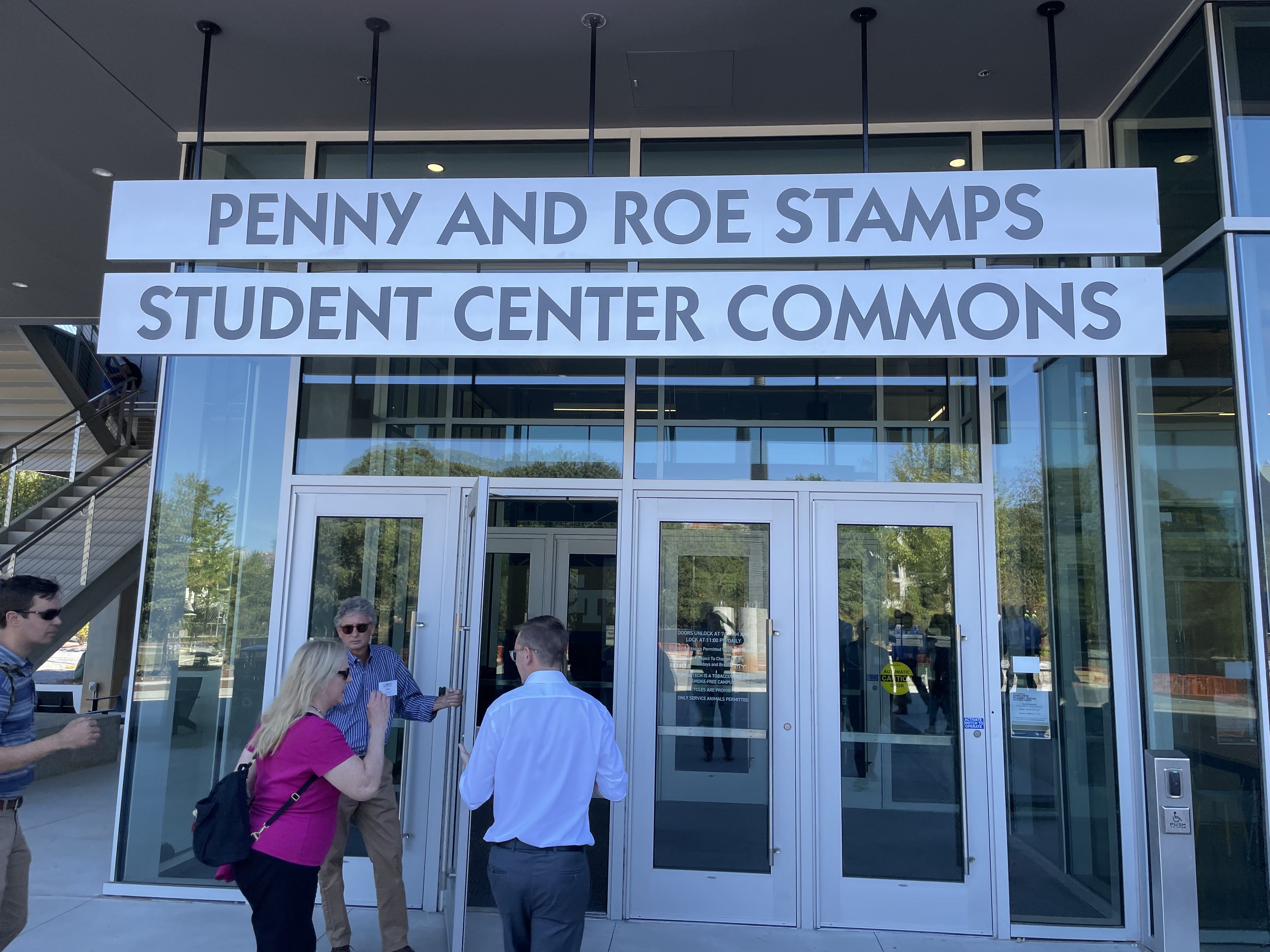 Also, as part of the tour, Georgia Tech's Associate Director of Construction, Chris Sanders, and Tim Fish with Cooper Carry (Architect of Record) walked us through the newly renovated Student Center Commons, including the John Lewis Student Center. It's awesome. Anyone who visits will agree it turned out amazing, but it is hard to explain how much different/better it is to anyone who didn't go to Georgia Tech. The stakeholders did a great job expanding and adding new life to a very dated, dark, and confusing building. They also gave a nod to the old building with images and little details like using the old mailboxes as art. It's a fun, functional, engaging series of buildings that fits well into the campus.
I may be biased since I went to Tech twice (BS Arch, MS BC + FM), but the campus architecture, landscape, and overall user experience are so pleasing. It's an exciting campus to roam. I walk my dogs through there and they also love it. It wasn't always that way, so hats off to Georgia Tech for understanding the benefits of creating a thoughtful, well-designed, innovative, sustainable, and well-maintained environment.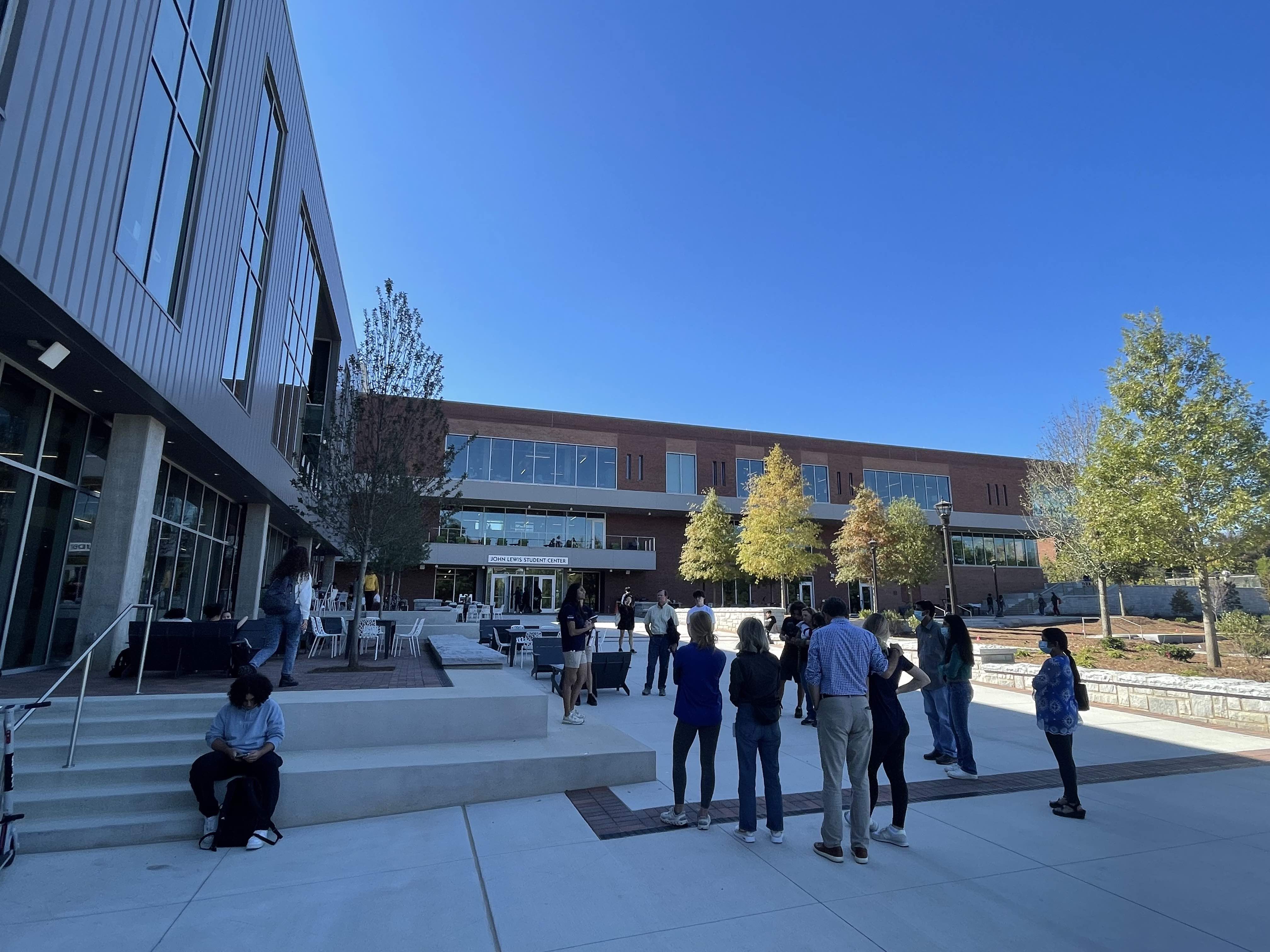 Wes Berry is Executive Project Manager with Georgia State Construction & Interiors Consultants.