COAA-GA Virtual Summer Workshop Recap
On July 11, 2021, COAA-GA hosted a Virtual Summer Workshop. A big thank you goes out to Melanie J. Ford (UGA, VP COAA-GA) for organizing, Crystal Carter (Whiting-Turner, COAA-GA) for facilitating Q&A, and LaKaya Brittian-Quander (COAA) for hosting.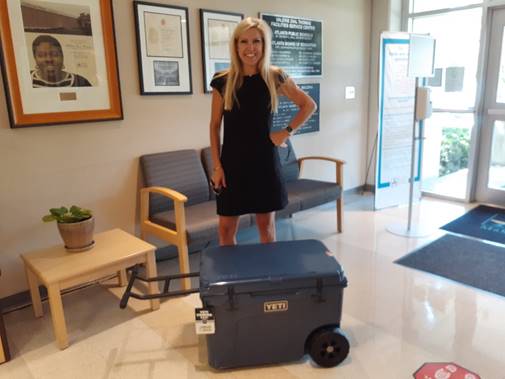 Also, congrats to our giveaway winners: Shelly Schwerzler, Office Creations won a YETI cooler (pictured right), and Travis Smith, Milestone Construction, won the Golf Cart. Special thanks to our annual sponsors Daikin Applied (who also provided the giveaways) and Parrish Construction Group. 
For those who missed it or want to revisit the topics, here is a rundown of highlights and lessons I took away from each session.
SESSION ONE
The first topic explored was "Design-Assist & Early Award Strategies for Building Automation Systems," presented by Brian Connell (PE, Turner), Ricky Dozier (Associate Partner, Electrical, Newcomb & Boyd), and Tricia Smith (Account Executive, Automated Logic). In the session, the group discussed the benefits of awarding Building Automation System contracts early and having them on board during the design process (DD's in this instance) and while onboarding other contractors (specifically electrical and mechanical).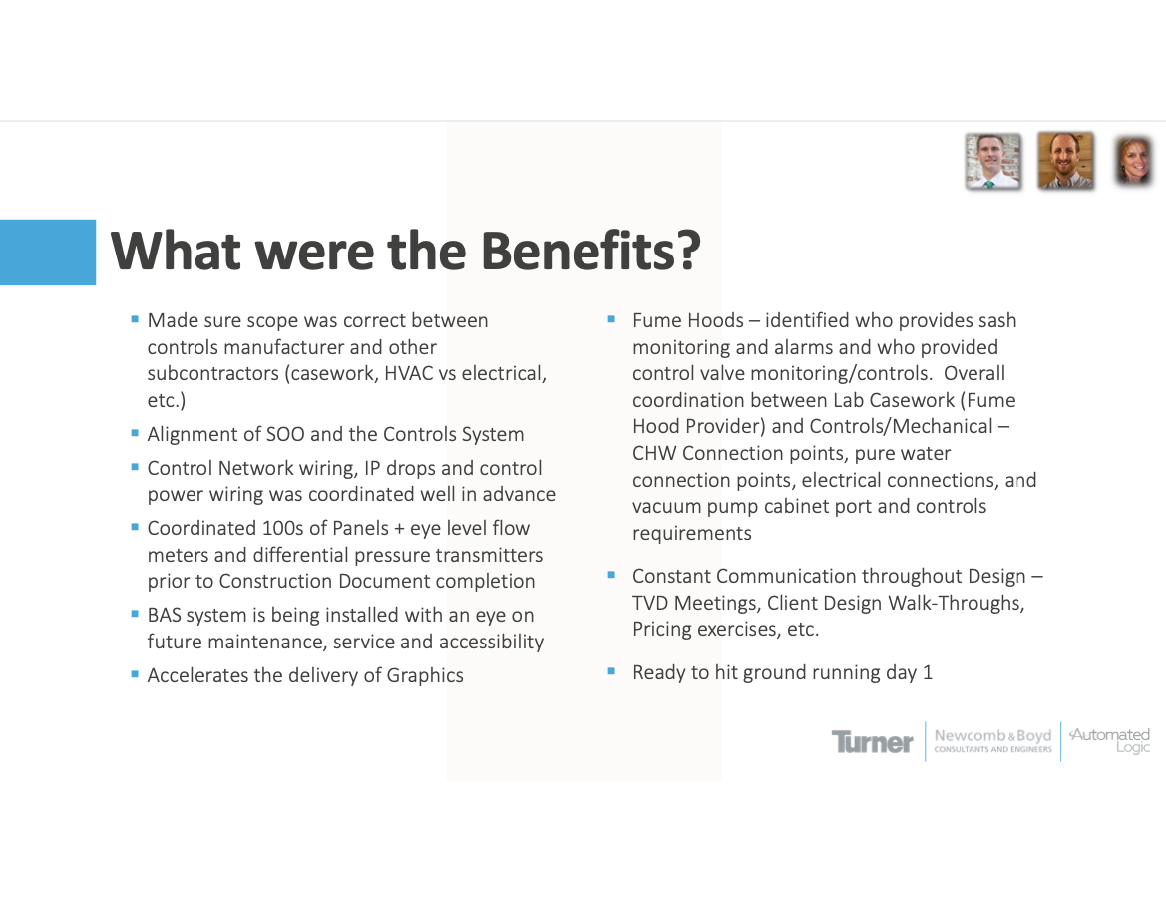 The group specifically looked at UGA's Phase II Interdisciplinary STEM Research Building because of the complexity of extensive systems, redundancy, and controls, all of which required extensive user input and coordination with trades and the end-user. Having the BAS contractor on board early (contracted by the CP) allows for information to flow, early resolved issues, trade scope to be coordinated, and acceleration of the graphics. It also provides for early budget and scope determination, development, and verification.
The main takeaways and lessons learned were: 
Set Clear Expectations ( Project Team and Trade Contractors)  
Define Budget and Scope Early - Verify No Gaps
Add Important Controls Details to Mechanical/Electrical Drawings
Accelerate BAS RFI Responses - Incorporate into the Contract Documents. 
Allow BAS Contractor Participation in Mechanical and Electrical Contractor Scope Development and Interviews
SESSION TWO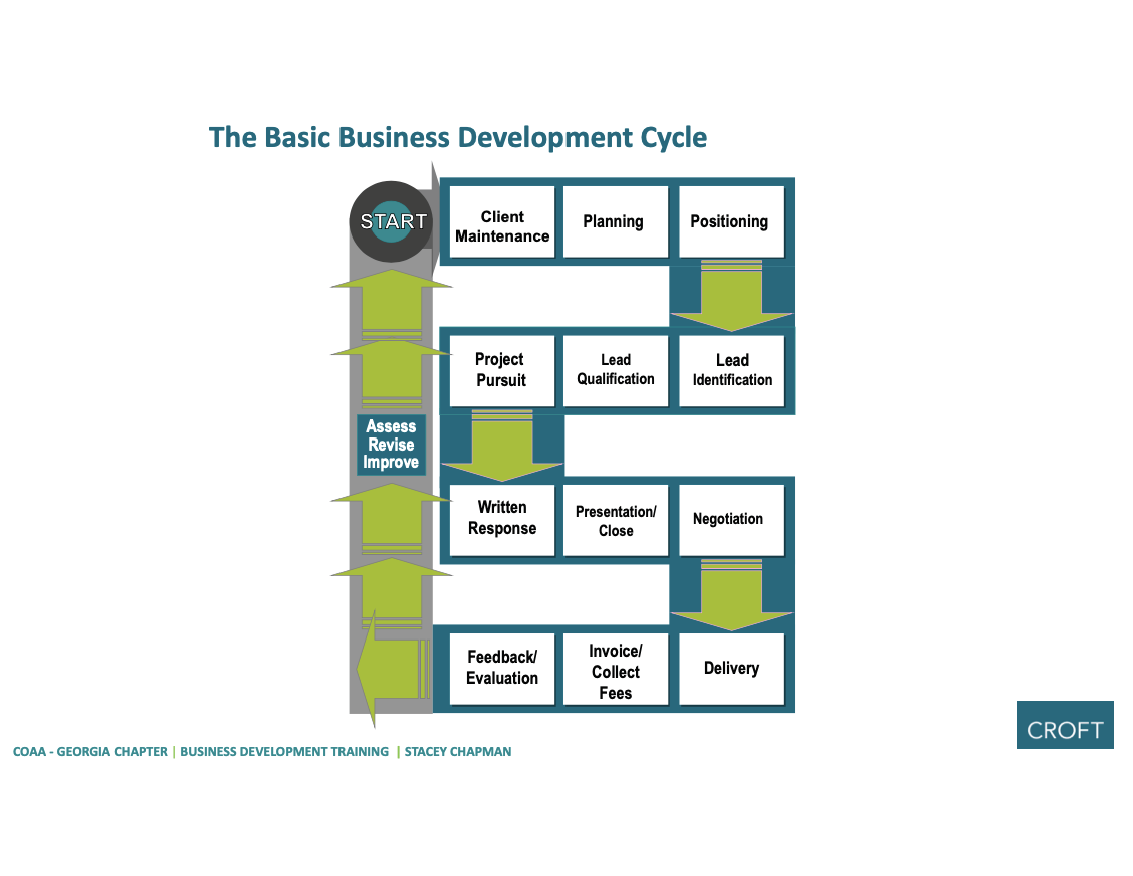 In the second session, Stacy Chapman (VP, Croft & Associates) took us through the do's and don'ts of business development and building client relationships over time with "The Business Development Lifecycle: It's not all Golf & Dinners." While I won't revisit all 12 steps of the BD lifecycle, here are some things that stood out to me. 
Marketing is about developing the material; Business Development is about forming strategic partnerships and long-term relationships. 
Competitors should be friends. 
People do projects (not firms).  
If you don't have chemistry with someone, don't force it. In those instances, pass the relationship to someone else in your firm or focus on business only. 
It was clear Stacey puts a lot of thought into targeting and developing relationships with people, companies, and projects, determining what to go after and why. Through strategy, planning, execution, follow-through, and consistency throughout the business development lifecycle, she can attract and retain clients, building Croft's reputation in the process. 
As far as where and how to meet people and get introduced to companies, attending conferences and joining organizations seems the most straightforward. Consistent attendance over time allows for introductions to happen naturally. As someone who has just switched from the public to the private sector and now has to do business development, the session was beneficial. 
SESSION THREE
The third session, "Construction Mapping for the Building Lifecycle: The Realm of Possibilities," was a joint presentation with Melanie J. Ford (UGA) and Brent Pearce (Multivista). The two looked at the partnership MV and UGA have formed to capture and utilize building mapping and other information to benefit UGA over the lifecycle of their buildings. 
By capturing photographic and other details (laser scanning, etc.) of each building before, during, and after construction and making information readily available to facilities and maintenance personnel, UGA has been able to proactively and efficiently resolve issues and maintain facilities.  
Some of the options discussed and utilized by UGA include: 
Photographic Documentation (taken from same spots over project duration) allows for historical process, accountability, and transparency. It also makes it easier to pinpoint and resolve issues during construction and over the building lifecycle.
Drones (Civil/Site Progression, Exterior Exact-Builts)
2-D and 3-D Mapping 
Thermal Imagery Assessments (Roof, Building Envelope)
Laser Scanning (Slab, Pre-Fabrication, As-Built CAD/BIM Creation, Existing Conditions)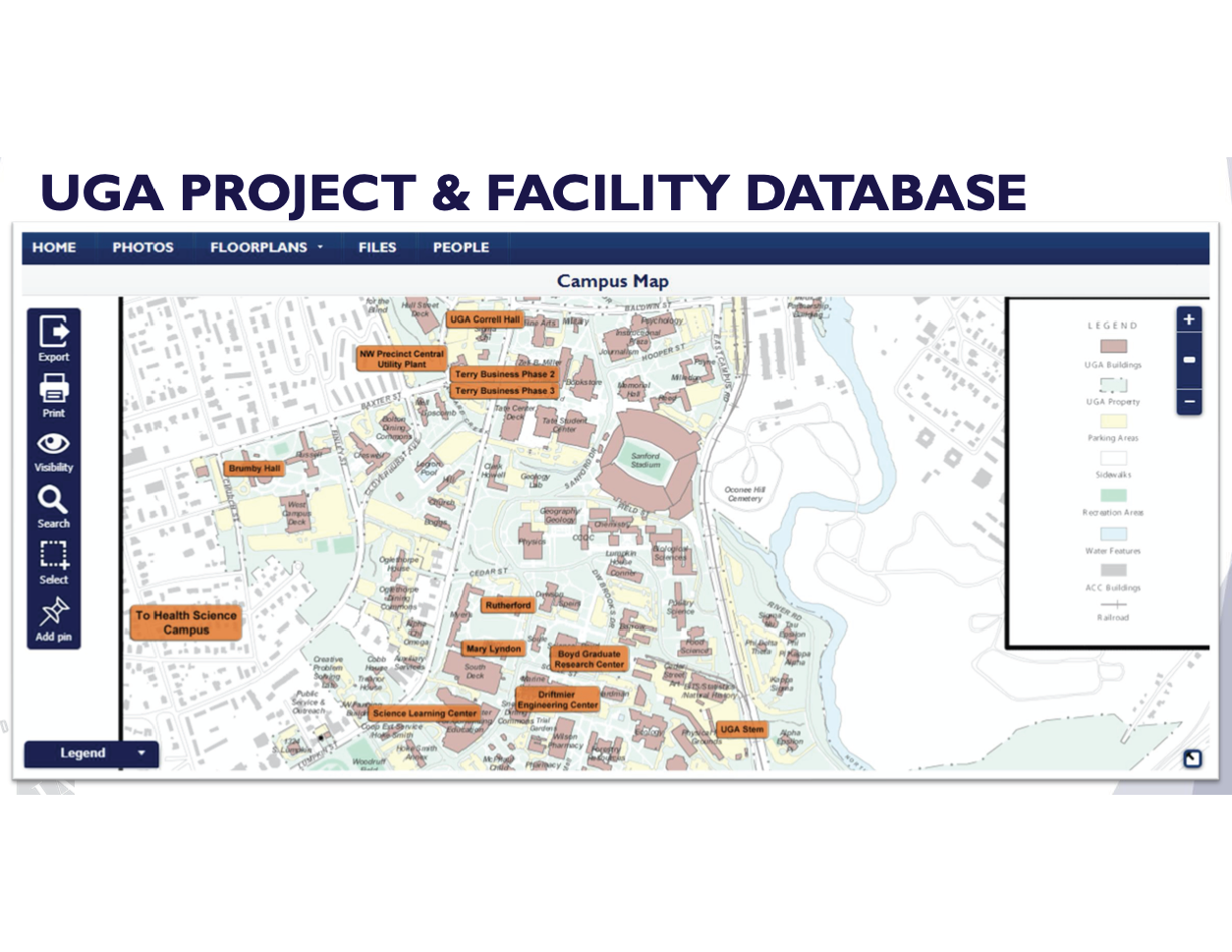 To keep track of the information, by building, UGA/MV developed a project/facility database that utilizes a campus map with building-specific information accessible when you click on a particular building. Not only does this include photographic and other construction-related data, but it also houses O&M manuals and training videos (shot by MV) attached to equipment locations and other helpful information to maintain each facility. All information is accessible from an app. 
My takeaway was MV offers comprehensive and cost-friendly, customizable options to capture projects before, during, and after construction. Having worked with them in the past on projects, I know that to be accurate. 

Overall, the workshop was well attended and offered helpful information; COAA-GA appreciates all who engaged.
Please join us for our Fall workshop on September 30 and feel free to submit topic suggestions (for workshop sessions and newsletter articles) for consideration. 

Wes Berry
Executive Project Manager 
GSCIC
wes@gscic.com