Fort Worth Owner Forum Recap
Date posted
April 19, 2023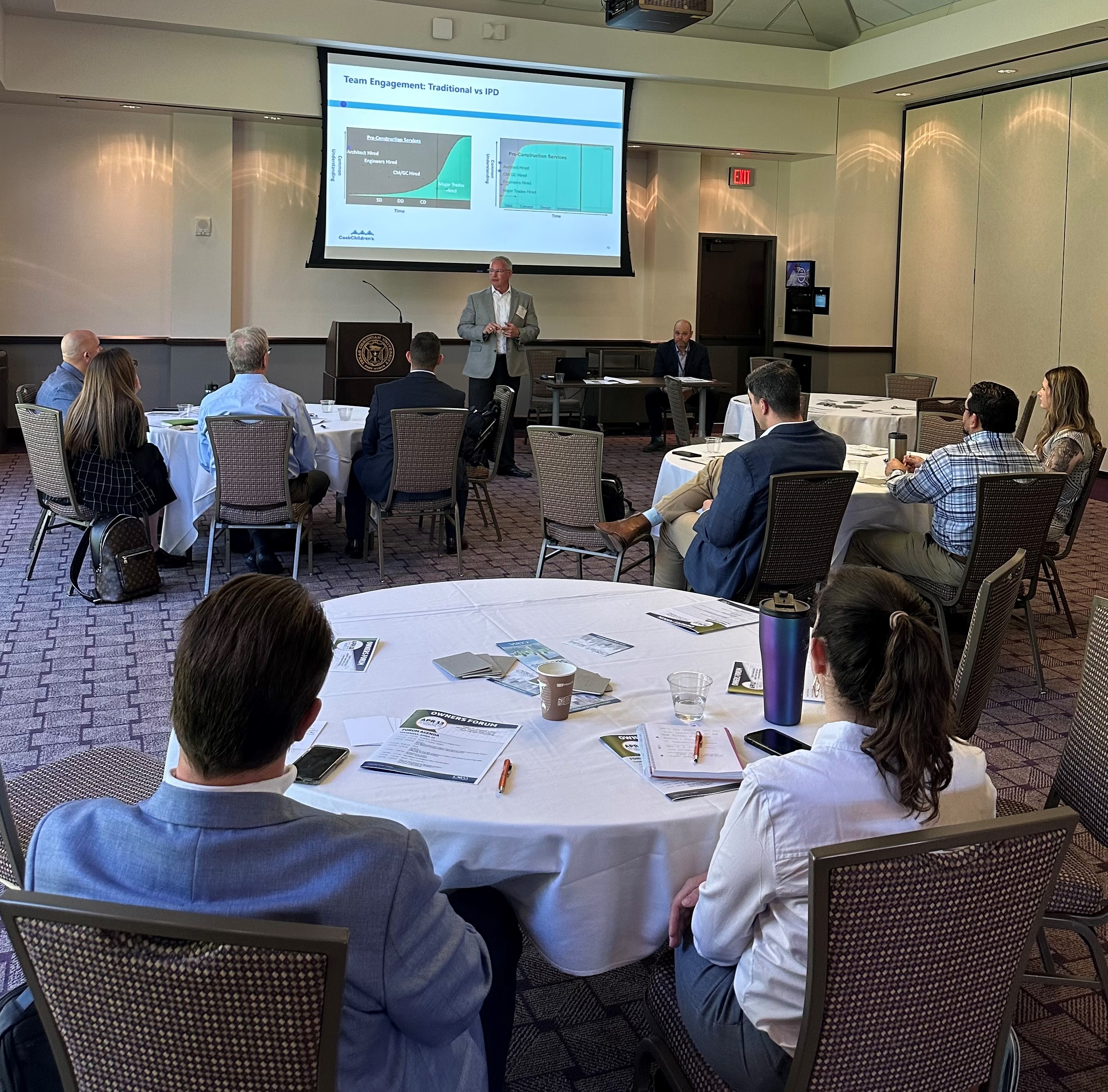 An intimate group of 20 owners from five Fort Worth area institutions gathered at the Alumni Center of Texas Christian University for the COAA Texas Chapter's Owners Forum on April 12.
During session one, "Biocontainment Critical Care Unit: Maximizing Patient Care Without Compromising Infection Control ," representatives from the owner (UTMB), architect (PhiloWilke Partnership) and construction manager (Archer Western | The Walsh Group) walked the audience through the 2019 renovation project in the Level 1 trauma center hospital. The $16.5 million renovation converted one area of the emergency department into a 62-bed high-containment unit while keeping the hospital operational. Independent MEP Systems, easily cleanable surfaces, and efficient flow of materials and staff into and out of the facility were key lessons the team learned when touring four other similar projects around the country.
During session two, "The Tale of Two IPD Contracts," representatives from Cook Children's Hospital in Fort Worth shared the theory and execution of Integrated Project Delivery contracts. The hospital has engaged the same construction and architecture teams for several years. They standardized the IPD delivery method in a manner that takes project accountability, transparency, and team problem-solving to another level, financially incentivizing the project team to perform well. The team presented two projects: a 240,000 SF clinic with associated 910-stall parking garage; and an 82-bed, $149.7 million new patient tower.
Then, one of the conference attendees, Alex Andrews, from Rutgers University in New Jersey, delivered an impromptu 15-minute presentation about vibration serviceability considerations for composite steel deck concrete floors and monumental stairs. Alex discussed how the university addressed vibration issues on four projects completed during his tenure at Rutgers University. He distributed a copy of a white paper prepared by his department.
At the last program session of the day, the Owners Roundtable, attendees discussed a variety of topics related to the operations and management of a facilities department, such as:
The number of projects per project manager and whether FTEs were charged to the capital projects budgets or to operational budgets
Project commissioning and close-out policies and procedures
Comparisons of different program management and asset management software, particularly compatibility with financial management programs
Key components (and appropriate level of detail) of a campus standards and design guidelines document, including interior design and branding standards.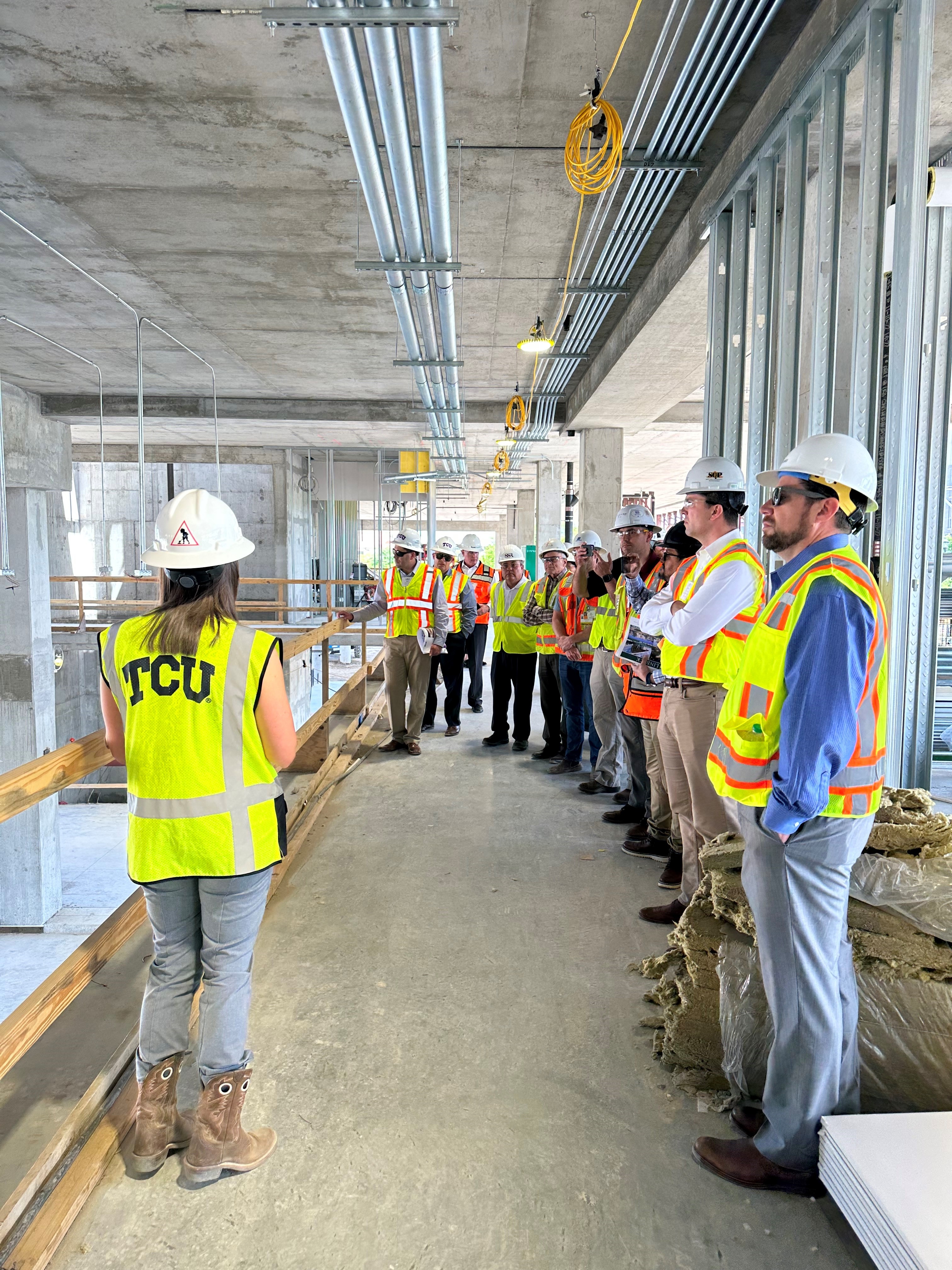 After lunch, attendees drove 10 minutes to the construction site of Texas Christian University's new four-story Burnett School of Medicine, slated to complete construction in July 2024. The building is in the heart of Fort Worth's medical district. Architects were careful to balance TCU's well-defined campus standards and its architectural style with the design requirements of the medical district. Due to the aggressive schedule, TCU did not want to request variances from the City of Fort Worth, least it delay the project. This facility is the first of four buildings planned for the new medical school. It features a gross anatomy lab, high tech simulation center and observation rooms, a library, fitness center, outdoor plaza, and grand central stair.
Coming next for the Texas chapter ... a member/associate happy hour on Wednesday April 16 and the Fall Workshop in San Antonio on Sept. 14-15.