COAA-GA recently hosted the Spring 2023 workshop in Savannah, GA - a new location for a chapter event and part of a conscious effort to spread meeting locations across the state. The COAA-GA Leadership Team was happy to welcome new and familiar faces and appreciates the attendees and sponsors that made the workshop successful, including Platinum Event Sponsor, Walker Architects, and Annual Sponsors Daikin Applied, Jericho Design Group, and Parrish Construction Group.
With the workshop on Friday, GMC (Goodwyn, Mills, Cawood) was gracious enough to host attendees Thursday evening at their office, located on historic Johnson Square, for a pre-workshop reception, which was a great welcome to the city and a precursor for Friday's sessions.

The workshop itself was at SCAD's PEI Ling Chan Gallery. The venue is a well-preserved building with a separate auditorium, making it a good fit for an event such as ours, allowing movement and a change of scenery between sessions. Positioned between the main building and auditorium is a spectacular Japanese garden that had me really wanting a koi pond and pondering the relaxation of rock raking.
The workshop included a continental breakfast, two morning ed sessions and lunch, followed by two afternoon sessions with lots of networking in between. Here's a brief summary of the ed session content: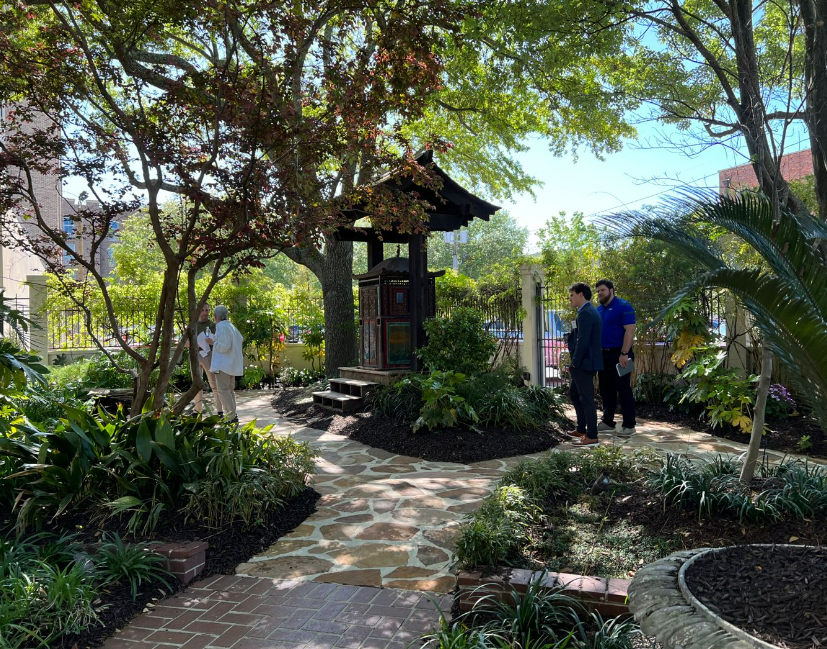 Session I: Coastal Georgia Botanical Gardens and Historic Bamboo Farm
Presented by: Melanie J. Ford, University of Georgia
Savannah's Coastal Georgia Botanical Gardens and Historic Bamboo Farm is a well-kept secret (confession: I had never heard of it). It is steeped in intriguing history, both botanical and human. Chapter president Melanie Ford is working towards a master's degree in landscape architecture at UGA and volunteers at the Gardens/Farm. She shared the history and notable information about its evolution in detail. The images shared were spectacular, with structured and themed gardens. Currently under construction is a two-phase development of the Children's Garden. The hope is that additions and improvements, such as the Children's Garden, will draw visitors and the income needed for preservation and further expansion.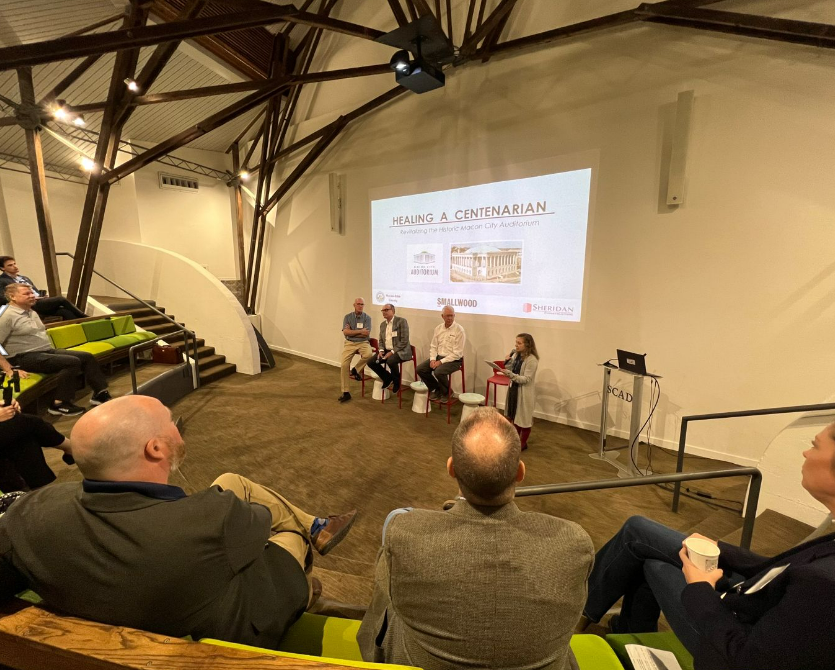 Session II: Healing a Centenarian - Revitalizing the Historic Macon City Auditorium
Presented by: Tom Rogers, Sheridan Construction | Clay Murphey, Macon-Bibb Co Government | Andy Amor, Smallwood
My mother grew up in Macon, and I've spent much time there. While most people get to experience the city as they pass through the never-ending construction of the I-16/I-75 split, there is a more charming part: downtown has beautiful historic buildings, both residential and commercial. I highly recommend touring the Hay House or doing a Historic Tour of Downtown. One building on that tour is the Macon City Auditorium, which boasts a large copper dome (one of the largest anywhere).
The project team discussed transforming this aging beauty into a functional, code-compliant, well-equipped venue while maintaining its integrity. Improvements included MEP and user experience upgrades (guest and performers), such as adding restrooms, improving acoustics, and better load in/out for production crews and equipment.
The most complex part of the project was removing an interior dome to expose the trusses and outer shell beneath. While tedious and involving the skilled use of scaffolding, the transformation is incredible. The inner dome was held in place solely with wire, which is a little scary but also fascinating. Restrooms were conveniently and symmetrically inserted into existing niches at corners to not detract from the stately exterior. Overall, the Team did a great job; it looks great and will better serve the city heading into the next 100 years.
Session III: Communication Matters: Risk Management in a Tough Market
Presentation by: Joe Walker, Walker Architects | Yanah Fischer, The Weitz Company | Chad Doering, University of Florida
This session looked at the University of Florida's approach to Design Build for a 1,407-bed housing project, utilizing communication strategies and techniques to minimize risk. With budget and schedule constraints (sounds familiar), the Team had to work together from day one to identify potential risks and make decisions that allowed for a successful project.
The team discussed the decision to transition from the idea of using cold-form steel on a concrete podium to Cast in Place concrete, opting for Punch (vs. Stick) windows for on-time delivery, hiring waterproofing consultant SGH for reviews and details to identify potential issues (design, installation, etc.) and testing the windows once installed, working directly with manufacturers for electrical items such as switchgears and panels, and utilizing fixtures that would be readily available, tracking production and delivery of mechanical equipment at the Daiken and Energy Labs factories in Mexico, and leveraging Virtual Design and Coordination (VDC), which included scanning slabs and curtainwalls, BIM Coordination, Aerial Photos, 360-degree interior photos, VDC services, and support.
Session IV: Windows, Storefronts, and Curtain Walls: Learning from Common Mistakes to Achieve High Performance
Presentation by: Bryce McQueen, Merik Building Construction Consultants | Wilkes Evans, Allstate Construction
The day's final session focused on Fenestration Systems, specifically how Windows, Storefronts, Curtain Walls, and others manage water and how to test them for leaks.
Bryce and Wilkes reviewed the common issues leading to leaks including internal manufacturing defects, improper delivery/storage/protection, Ineffective mock-ups, poor coordination, poor construction of internal seals and improper construction, incorrect integration with drainage components, difficult-to-seal joint interface conditions, and poor workmanship and the two methods of window testing: ASTM E-1105 and AAMA 501.2, explaining that ASTM E1105 utilizes a calibrated spray rack that distributes water from evenly dispersed nozzles at a uniform rate to the exterior side of the test unit and is the standard test method for field determination of water penetration of installed exterior windows, skylights, doors, and curtain walls by uniform or cyclic static air pressure difference. AAMA 501.2 uses a calibrated spray wand with a specialized nozzle to spray the exterior side of the window or unit at a rate of 1 minute per foot of framing. The test is used for quality assurance and diagnostic water leakage field checks on installed storefronts, curtain walls, and sloped glazing systems.
Specifications may require either or both but should include at least one. It is recommended that projects test as many fenestrations as the budget allows, as each unit is separate; performing sample tests on the same units (in different locations) should highlight deficiencies if the units are all installed the same way. All system parts must be installed correctly for proper function, which means coordination, consistency, and quality control between the manufacturer and subs doing the installation.
Water intrusion can cause many issues and typically make up most property damage claims, including interior damage to finishes, flooring, and interior building components, hidden damage to exterior wall components, mold growth, uncomfortable environments, and poor indoor air quality (IAQ). The best way to prevent these and other issues is to start the conversation about water tightness early, design with this in mind, and incorporate adequate testing into the project.
We hope you find this information useful, and hope to see you at one of our upcoming workshops or construction site visits (the most recent was Emory's Health Sciences Research Building II). Please get in touch with COAA-GA with any questions or ideas for topics to explore moving forward.
---
Wes Berry has a BS in Architecture and MS in Construction Management from The Georgia Institute of Technology, is a PMP, and enjoys all aspects of Design and Construction, specifically Programming, Strategy, and Contract Administration. Having worked for the State of GA as a PM for 14 years (GSFIC), he primarily consults on State projects but takes on an occasional residential project and would like to expand into Healthcare. He is also an Ace Certified Personal Trainer and spends his free time focused on fitness and his two dogs, Pierre and Penelope.